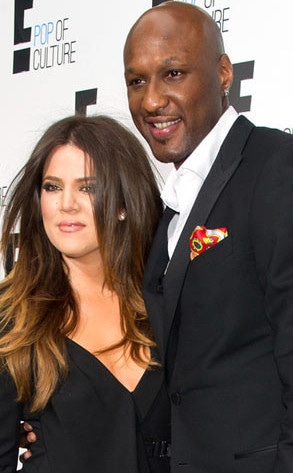 Gilbert Carrasquillo/FilmMagic
Khloé Kardashian Odom gave Lamar Odom something huge for his 34th birthday: a second chance. Though their four-year marriage was on shaky ground just three months ago, the couple celebrated the occasion one day early on Tuesday, Nov. 5, sources tell E! News exclusively.
The unsigned NBA player was in good spirits when he accompanied his wife to Kris Jenner's 58th birthday party that evening. "It was just close family and friends," says a source. "Lamar and Khloé are actually getting on very well and were couple-y together. It was very intimate and everyone was really pleased to spend time with them."
After Odom decided to get sober in the wake of his Aug. 30 arrest (he later pleaded not guilty to driving under the influence), his relationship with the Keeping Up With the Kardashians star began to improve. Now the two "are seriously talking about possibly giving it another go," says the source.
They kicked off the celebration early because Kardashian Odom is working on her husband's actual birthday, Wednesday, Nov. 6. Per an insider, the reality stars are not expected to "see each other."
Married since September 2009, they have been working hard to save their marriage. "They have been spending an increasing amount of time together," an insider said on Oct. 29. "At one time it seemed like a reconciliation was impossible and divorce was inevitable. Things may have turned a corner."
If Odom's low-key birthday dinner with his wife's family is any indication, they already have.
—Reporting by Melanie Bromley and Ken Baker