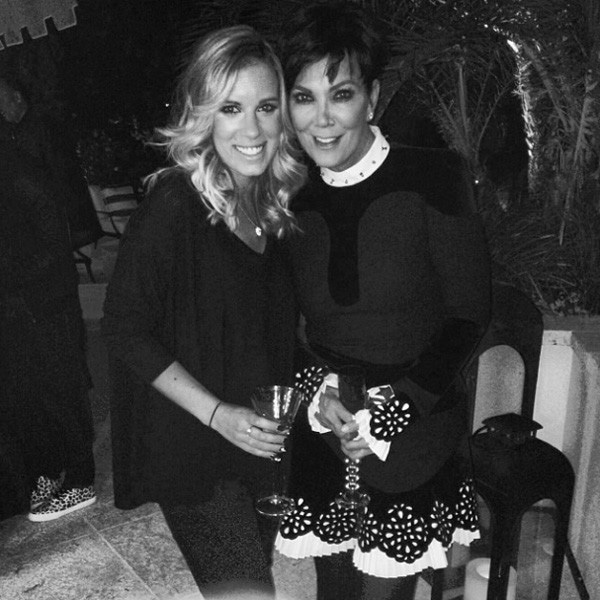 Instagram
Kris Jenner's 58th backyard birthday bash was the place to be Tuesday night.
Friends and family shared behind-the-scenes pictures from the festive affair, including photos of the DJ spinning tunes until the wee hours.
And between the dancing and delicious food (did someone say sushi bar and truffle mac and cheese?!), the Kardashian matriarch's birthday bonanza looks like it was a ton of fun.
"I had the best birthday," Kris exclusively told E! News. "I feel overwhelmed by all the amazing birthday greetings and flowers. I am truly blessed."
While everyone seemed fairly casually dressed, the lady of the hour was dressed in an ornate black and white frock and tights.
The Kardashian home was also fully decked out for the swanky occasion.
The family's pool was lit with bright purple lights and candles were decorated throughout the gorgeous backyard.
Kendall Jenner and countless friends snapped photos dancing and hanging out at the party together, in fact, Justin Bieber's buddy Lil Twist appeared to photobomb one of the pics that ended up on Instagram!
Earlier in the day, Kim Kardashian and Khloé Kardashian Odom shared Keek videos from a luncheon honoring their mama.
Both gals surprised Kris with cupcakes and a beautiful birthday cake with none other than her own face on it!
"Now that's a beautiful cake," Kris joked when she was presented with the dessert.
Kourtney Kardashian also got in on the birthday love with an Instagram collage of some of her favorite mother-daughter moments.
She captioned the image, "Happy happy birthday to my mommy! Thank you for inspiring and teaching me so much. You are the best mother and friend. I love you! Shake it like a Polaroid picture."
Kourtney exclusively told E! News that she unfortunately missed the birthday because she was in New York on a business trip.
"My mom wrote us an email and was like, 'Last minute dance party at my house, I want a dance floor!'"
She added, "It looked really fun, I'm sad I missed it."
Wednesday morning, Kim shared a throwback pic of her as a toddler being held by her mom.
"I hope you had a good birthday mamma," she captioned the pic.
By the looks of it, she most certainly did.
Catch the season finale of Keeping Up With the Kardashians this Sunday at 9 p.m., only on E!