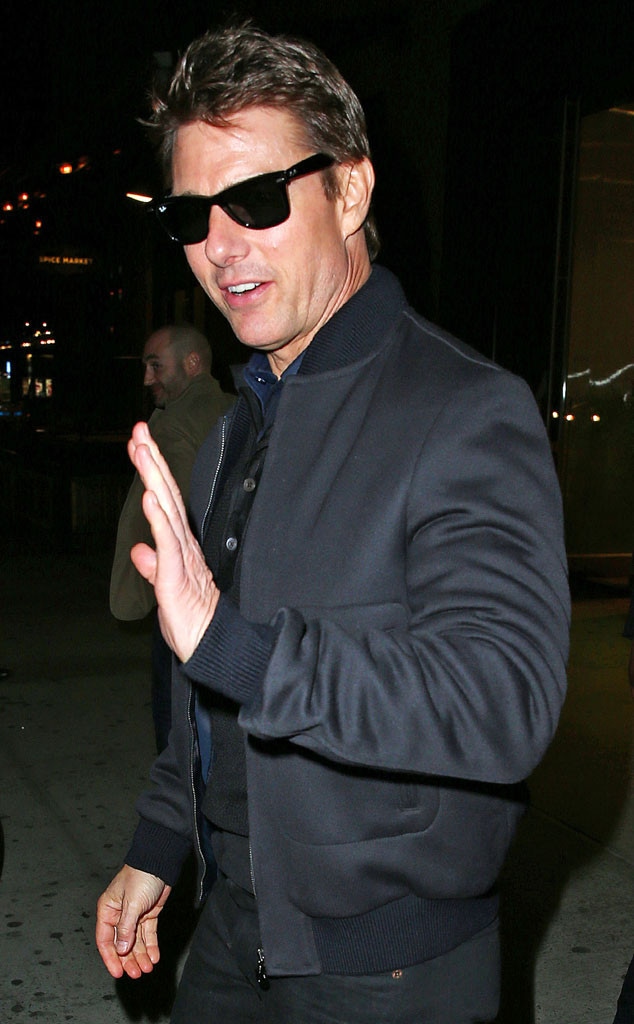 Tom Cruise said that he had no choice but to keep fighting.
In a sworn deposition he gave in his ongoing $50 million defamation case against publisher Bauer Media, the movie star used the word "disgusting" in reference to two stories printed in In Touch Weekly and Life & Style in July and October of 2012 that claimed that the actor had chosen Scientology over daughter Suri Cruise following his split from the child's mother, Katie Holmes.
"What I find most disturbing is that I have to sit here and look at this photograph of my daughter with 'Abandoned by Daddy'—to me, that is what sticks out the most," Cruise said in his Sept. 9 deposition, referring to a print copy of one of the cover stories in question, according to court documents obtained by E! News.
"'He chose Scientology over Suri for good,'" he continued reading, per the U.S. District Court filing. "'Has he chosen Scientology over Suri for good?' 'Abandoned by Daddy.' I mean come on, that is absolutely disgusting. That is absolutely disgusting. And I have to tell you, with everything—listen, I am a public person, I absolutely understand. For me there is—I tolerate a tremendous amount and I am very privileged to be able to have the life that I have and I believe that.
"But there is a line that I draw for myself and...and that's it. And I asked for an apology," Cruise declared. "I asked for a retraction. They denied it, wouldn't do it and then published that you know—this is the second one," he added, referring to the In Touch story.
Regarding why he insisted on filing suit, Cruise stated, per the transcript: "It's very simple. This is something that could have gotten handled easily. And I understand, listen, with the Internet...you know I have been doing this for 30 years. I've lived through the whole change and incarnation and there is a point where—and this is it for me. So that is how I feel about it."
Asked if he considered accusing Bauer Media of all sorts of nefarious doings to be a proper litigation tactic, he responded: "I don't know if it is a proper litigation tactic or not. The one thing that—all I wanted basically was for them not to print that I abandoned my daughter and that I chose my religion over my daughter, that's what I want."
"That is what I wanted," Cruise continued. "I wanted an apology. They didn't do it. And they did it again. Is that ethical?"
As for how things actually are between him and his 7-year-old daughter, Cruise wrote in a two-page statement included in the massive sheaf of court documents that, while shooting back-to-back films immediately following his and Holmes' divorce last year, he and Suri talked regularly and he got regular updates from her mom.
He did acknowledge actually seeing Suri only a few times between June 2012, when he and Holmes separated, and Thanksgiving of that year.
Cruise's longtime attorney Bert Fields told E! News as much back in February, shortly before the lawsuit was ordered into private mediation.
Bauer first fired back at Cruise's suit back in December 2012, stating that its magazines' stories were "substantially true," adding that their publications "do not assert verifiably false facts, and/or constitute rhetorical hyperbole or subjective statements of opinion."
Cruise further stated in his deposition that Holmes left Scientology following their split—and that he found the question of whether Holmes divorced him to protect Suri from Scientology "offensive."
The child is not practicing Scientology and "there is no need to protect my daughter from my religion," the actor said.
The next hearing pertaining to the case is scheduled for Nov. 26.
—Reporting by Claudia Rosenbaum