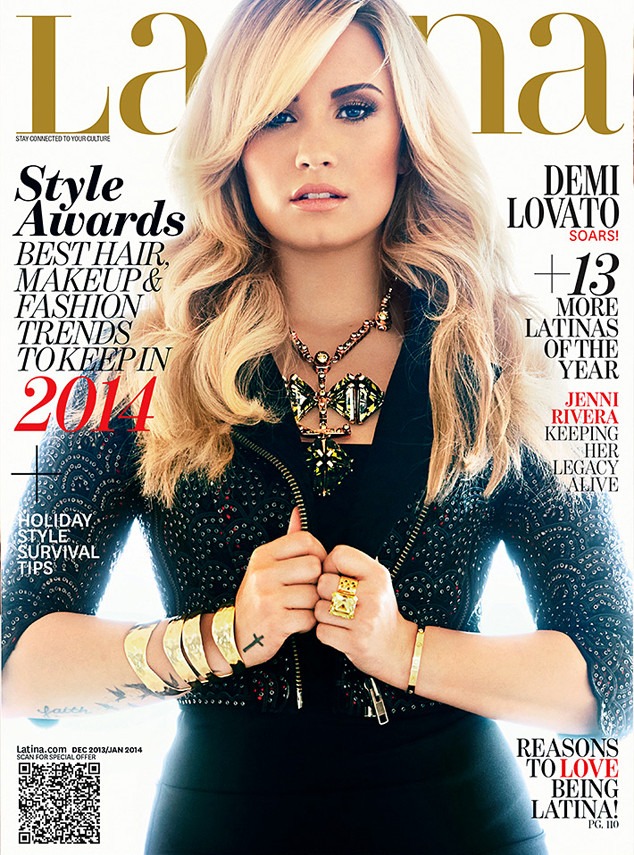 Latina Magazine
Is Demi Lovato ready to be a mama?
"I'm a Texas girl, so my instinct is to have babies early. In my heart I'm like, 'Okay, it's time to have babies!'" the 21-year-old beauty tells the December 2013/January 2014 issue of Latina magazine in which she opens up about family, what she's looking for in a relationship and her recovery while looking stunning on the cover in a black cropped jacket and gold jewelry with her hair down in soft curls.
But despite her Texas roots like fellow gal pal Selena Gomez, the erstwhile Disney star insists she's focused on her career for the time being:
"I have so much life ahead of me that I actually have to slow my roll," the X Factor judge admits. "We'll see where my life is in 5 years, but I definitely see myself as a mom in 10."
As for what the "Heart Attack" singer—who was recently seen holding hands with ex-boyfriend Wilmer Valderrama—is looking for in a man?
"I look for someone who makes me laugh," she reveals. "Because 20, 30 years from now, sometimes the spark fades, but when you're with someone who's your best friend—that's what makes a relationship last."
Lovato also opened up about turning 21, which the sober star opted to celebrate with a trip to Africa instead of a booze-filled bash.
"It's different for me because I'm in recovery," she explains of her 21st birthday celebration. "I also want to set an example for others. You don't have to booze it up—you can do something else."
And she's also working hard to be a role model on the boob tube in her guest-starring role on Glee, playing a love interest to Naya Rivera's character:
"Yes, we kissed in the first episode, but I want people to pay less attention to the fact that I'm kissing a girl," she shares. "Focus on the fact that having a young, multicultural lesbian couple on prime time is a huge step in our generation. It's showing people that it's okay to be who you are. Don't be ashamed of it."
The young role model is even continuing to help others receive treatment for mental illness and additional with the Lovato Treatment Scholarship, which she founded after her father passed away in June.
"The process is getting them through treatment, giving them the support that they need," she says. "Just making sure they get their two feet on the ground."