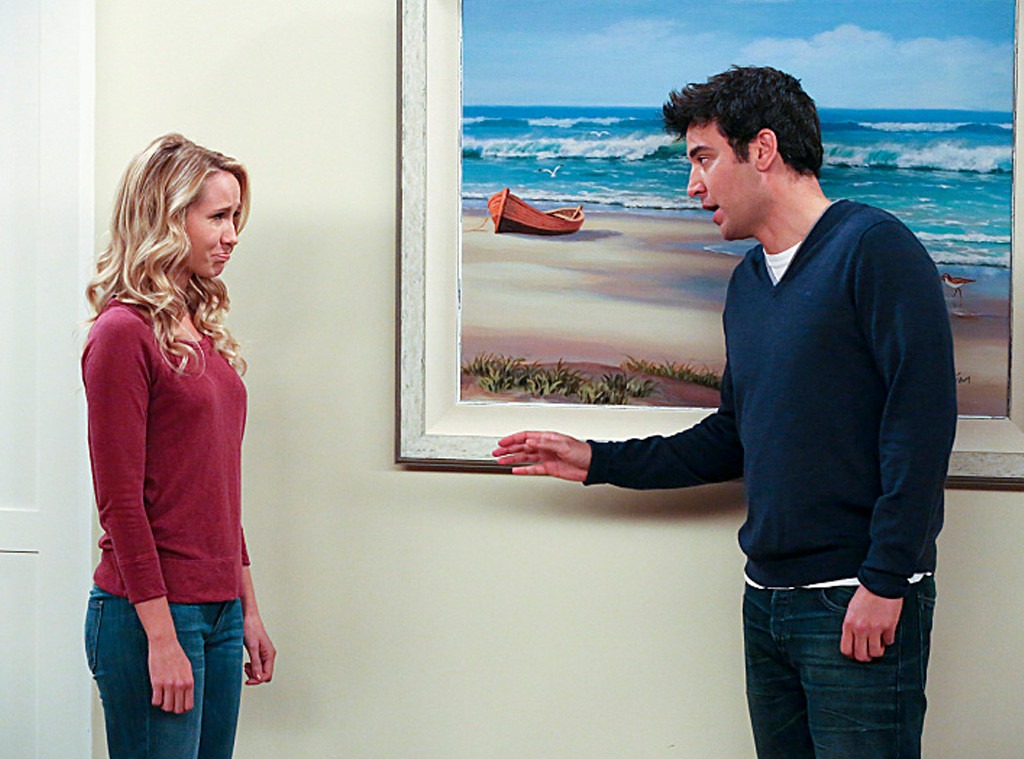 Robert Voets/CBS
Spoiler alert! We're about to dig into the biggest, most jaw-dropping moments from Monday night's TV. If you haven't yet watched a particular show, and don't want to be spoiled, skip to the next!
The Blacklist: Compared to last week's mind-blowing episode, tonight's episode was pretty mild. However we were presented with a small but mighty nugget of information from Red's mysterious past. One of Red's people paid double the asking price to buy a house in Maryland. It was a cute little place, but nothing too incredible. It's clear that this house must have meant a lot to Red for him to pay such an extravagant amount.
It turns out that Red raised his family in this house and we watched as he pulled off a board revealing markings where he tracked the growth of his daughter many years ago. It was a very bittersweet moment. Red's henchmen said they have prepared the house and that it is time to go. "I spend every day trying to forget what happened in this house," Red reminisced. "Maybe this will help." And as he pulled away, the house exploded. Sheesh! What the heck happened in that house, Red?
How I Met Your Mother: Finally! After five long Mother-free weeks, devoted HIMYM fans were gifted with another flash-forward featuring Tibba (Cristin Milioti) and Ted (Josh Radnor). (Okay fine. We know that Tibba is not her real name, but that's what it sounds like to us when you've been saying TBA for the past nine seasons.) We hate to admit it, but the wait for The Mother was definitely worth it because tonight's episode gave us something absolutely incredible: Ted's proposal!
Just in case you missed the magical moment here's how it all went down: It's been two years since Barney and Robin's wedding weekend and Ted has decided to take The Mother back to the Far Hampton Inn where it all began. At the tippy-top of what seemed to be the world's most adorable lighthouse, Ted dropped down to one knee and asked, "Will you…?" He couldn't even finish his sentence before his pint-size bride-to-be exclaimed, "Yes! Yes! Yes!" Admit it. Who else was like a baby?!
Bones: After one of the most gorgeous weddings in television history, Booth (David Boreanaz) and Brennan (Emily Deschanel) were ready for a little fun, sun, and solving crimes. The newlyweds traveled to Argentina for their honeymoon on this week's episode of Bones and in between all their love-making, (Squee!) the couple still had plenty of time to find out this week's whodunnit.
It turns out that this week's Bones victim was a hidden Nazi who sent thousands to the gas chamber. Ugh. And the killer was… his own granddaughter! It turns out she was actually working with Brennan to try and "solve" the case. Nice try, honey, but you're no match for Booth and Brennan, even when they're supposed to be relaxing on their honeymoon. By the way, who else was in love with those skull cocktail glasses? Too perfect!
Castle: Tonight's episode of Castle was all about bringing our strained father and daughter back together. Alexis' (Molly Quinn) case study and friend, Frank, was on trial for murder and said to be executed in a mere three days. Yikes! So once again, it's Castle (Nathan Fillion) to the rescue. After crossing off what seemed like a dozen suspects from the list, Castle and Alexis combined their brilliance to discover that a cop named Teddy was the real killer. You can all breathe a collective sigh of relief now! Alexis thanked her daddy and her soon-to-be step-momma, Beckett (Stana Katic), for all their help in solving this death row case.
Sleepy Hollow: Holy feels, Batman! Yes, we know Ichabod (Tim Mison) is a married man, but we can't help but love the chemistry between our favorite revolutionary war soldier and Abbie (Nicole Beharie). Tonight's outing further fanned our shipper flames by having Abbie on a mission to save Ichabod and everyone noticing just how much he already means to her. And their goodbye when he was going to off himself to stop Headless? Can't. Even. Deal.
And how great was Fringe's John Noble as the powerful yet damaged Sin Eater, the man who saved Ichabod's life? Then again, we'd watch Noble read a book for an hour and still consider it award-worthy material.
Dancing With the Stars: Did you miss tonight's Cher-tastic episode of DWTS? Not to worry, we've got you, babe! It's week eight of the ABC reality competition and the season 17 dancers were determined to show-off their skills to guest judge and performer Cher. Unfortunately, one of the front-runners was bumped out of the competition despite earning a sold 27 points! Find out which guy was eliminated in our Dancing With the Stars mini-recap right here.
.Gif of the Night: Ichabod's attempt to heckle an umpire at a baseball game. Priceless.