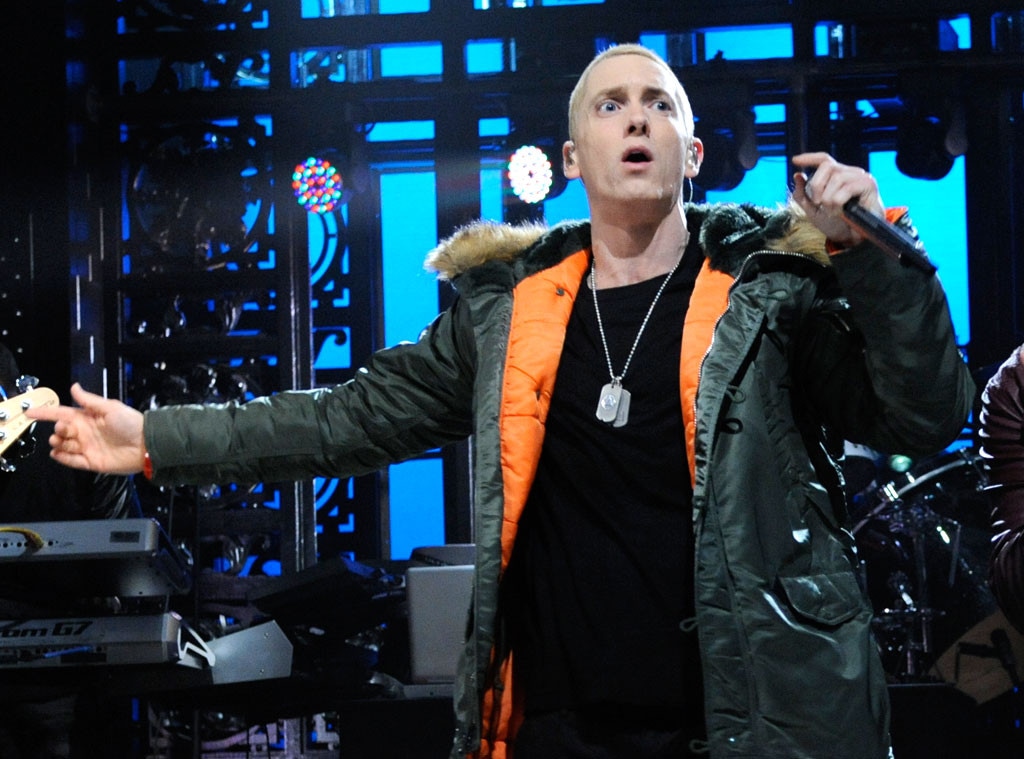 Dana Edelson/NBC
Eminem's album Marshall Mathers LP 2 isn't released until tomorrow, but it's already been creating some buzz—and not necessarily the good kind.
Music critics and longtime fans of the rapper will have their own thoughts on the composition of his new tracks, but people in general began speaking out about the album after learning that Em still uses homophobic terms in some of his songs.
In the single "Rap God," Eminem targets rival rappers by saying, "Little gay-looking boy / So gay I can barely say it with a straight face-looking boy" and "You f-gs think it's all a game 'til I walk a flock of flames."
After being the receiving-end of negative hype, the 41-year-old celeb attempted to defend and explain why he continues to say gay slurs in his music during an interview with Rolling Stone magazine.
Slim Shady began to say, "I don't know how to say this without saying it how I've said it a million times. But that word, those kind of words, when I came up battle-rappin' or whatever, I never really equated those words..."
"To actually mean 'homosexual'?" the reporter interjected.
"Yeah. It was more like calling someone a bitch or a punk or a--hole. So that word was just thrown around so freely back then. It goes back to that battle, back and forth in my head, of wanting to feel free to say what I want to say, and then [worrying about] what may or may not affect people. And, not saying it's wrong or it's right, but at this point in my career—man, I say so much s--t that's tongue-in-cheek.
"I poke fun at other people, myself. But the real me sitting here right now talking to you has no issues with gay, straight, transgender, at all. I'm glad we live in a time where it's really starting to feel like people can live their lives and express themselves. And I don't know how else to say this, I still look at myself the same way that I did when I was battling and broke."
Eminem continued, "Well, look, I've been doing this s--t for, what, 14 years now? And I think people know my personal stance on things and the personas that I create in my music. And if someone doesn't understand that by now, I don't think there's anything I can do to change their mind about it."
What do you think of Eminem's explanation? Sound off below!