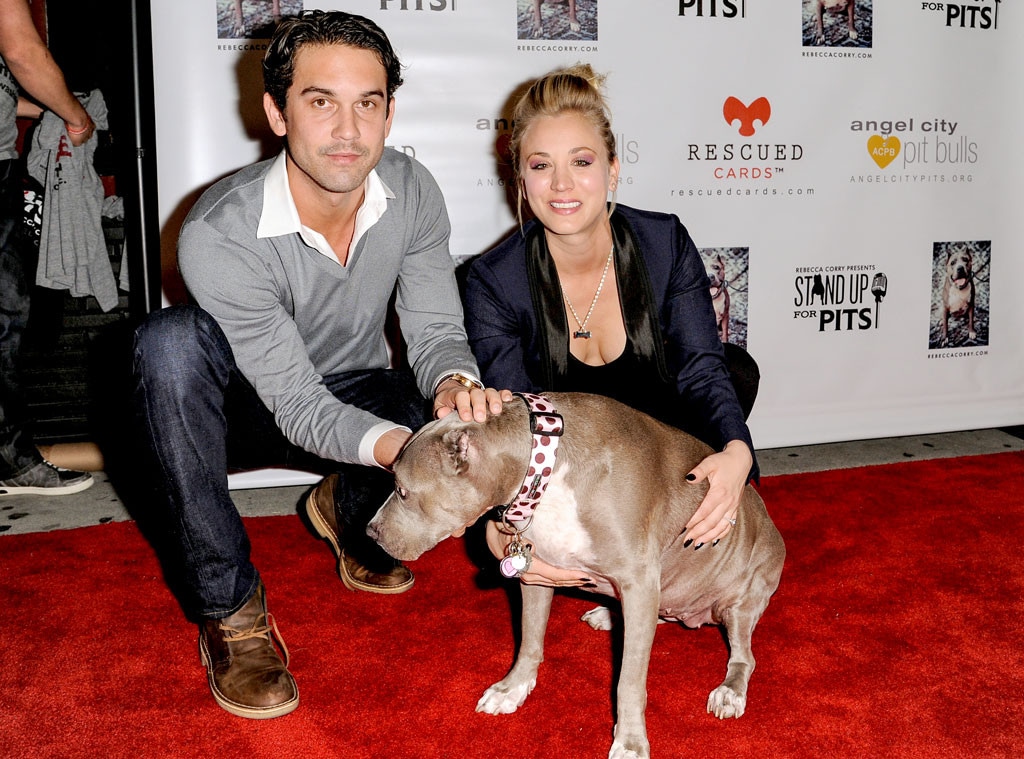 Rob Latour/Celebrity Monitor
Kaley Cuoco spent Sunday night hanging out with her "two favorite dudes": her fiancé and her pooch.
The animal lover and Big Bang Theory star hosted the Stand Up for Pits charity benefit at the Coronet Theater in Los Angeles on Oct. 3. 
The 27-year-old beauty wore an all-black ensemble for the evening, letting her stunning diamond engagement ring take center stage as she posed for pics with her man and her dog, looking cute and classy in a blazer, jeans and motorcycle boots with her blond hair swept up in a messy bun. Her sexy tennis beau also looked handsome in a gray sweater and jeans as he proudly posed for pics with his ladylove, and at one point even gave Kaley's pup a sweet kiss.
"The night has come! #standupforpits SOLD OUT!!!! #largo thank you @TheRebeccaCorry !!!!!" the CBS star, who has three rescue pit bulls, tweeted Sunday night before captioning an adorable photo where she's giving her precious pup a smooch. "The belle of the ball- Miss Angel! #standupforpits @TheRebeccaCorry," she wrote.
This is the second time the engaged duo has attended an animal charity event in just one week. On Sunday, Oct. 27, the lovebirds stepped out with pals Anna Faris and Chris Pratt to attend the Amanda Foundation's Bow Wow Beverly Hills Halloween event in Los Angeles, which Cuoco hosted as well.
Clearly, the couple has a shared passion for animals!
After the Stand Up for Pits charity event, Cuoco took to Twitter to share a photo following the successful evening, showing off the two main men in her life.
"#muttmonday @humanesociety @amandafnd @Ryansweeets my favorite dudes," the blonde beauty captioned a precious pic of her beau holding a glass of wine while petting her furry-friend.
Kaley has made no secret of her love for her rescue pit pulls, previously telling Ellen DeGeneres, "I love them, I think they're the greatest dogs in the world, They are the friendliest, the sweetest,"
And clearly, Sweeting knows the way to Cuoco's heart, as he's clearly warmed up to Kaley's dogs and regularly posts photos with her pets on Instagram.
"This lady is a gem! #lorettaalwaysbetta," he captioned a recent shot where he's giving his four-legged friend a huge snuggle.
Cuoco and Sweeting got engaged in late September after just three months of dating.
"From day one I just knew immediately and it's been magic," she told Entertainment Weekly after confirming the couple's whirlwind engagement. "We have all the same family friends. We grew up with the same people, we just never met. So I kind of feel that I've known him my whole life. I know that it seems a little crazy on paper, but it's what works for us."
She's since said that the pair is "too busy" to plan their wedding, and they are simply "enjoying being engaged" in the meantime.