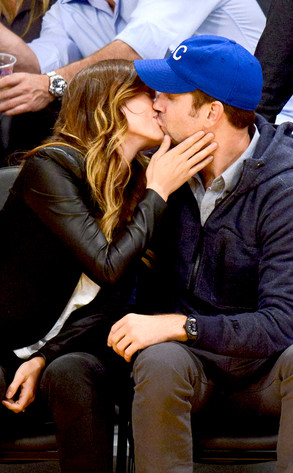 Noel Vasquez/Getty Images
Olivia Wilde and Jason Sudeikis are not shy when it comes to showing each other affection and kissing in public.
So, it seems only natural that the couple, who announced last weekend that they are expecting their first child, was spotted smooching courtside at the Lakers game on Friday, Nov. 1.
But that was only the beginning. They later locked lips for the famous Kiss Cam!
All together now: awwww.
The 29-year-old brunette beauty and the 38-year-old actor looked casual chic for their date night. The Rush actress wore a white T-shirt with a black jacket and skinny black pants. Her baby bump was not very visible, since she was seated and watching the hometown team take on the San Antonio Spurs intently with her beau.