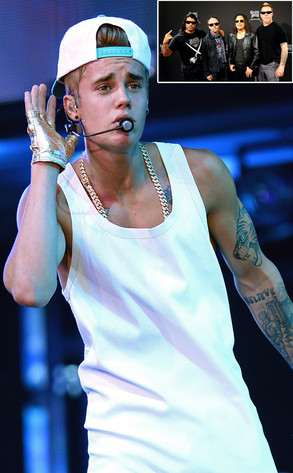 Ethan Miller/Getty Images, Jeff Kravitz/FilmMagic
Well, here's something we didn't expect.
Rock band Metallica have come out in support to 19-year-old pop superstar Justin Bieber! In fact, they're self-proclaimed Beliebers.
Metallica lead singer James Hetfield recently revealed to Kerrang!, "Are we Beliebers? Yes."
Drummer Lars Ulrich added, "Is it possible to have respect for him without being a Belieber? I think the kid's really talented and obviously to go through what he's going through at that early age must be a mindf--k. So the fact that he still goes out there and does it, I admire that and I think he's super talented, so I guess I am kind of a Belieber. If he likes 'One', and Liam Gallagher likes him, OK, there you go."