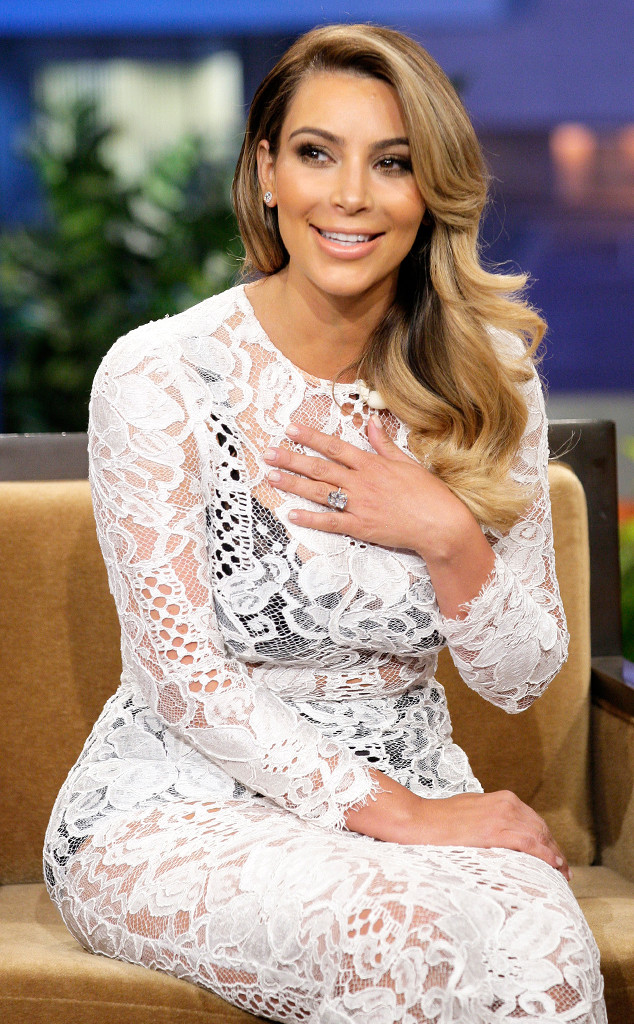 Paul Drinkwater/NBC/NBCU Photo Bank via Getty Images
Kim Kardashian had a lot of catching up to do in her first big late-night TV interview since becoming a mom.
On The Tonight Show With Jay Leno Wednesday, Kim Kardashian touched on a number of topics—wedding planning, her daughter North West, her engagement to Kanye Westand that eye-popping selfie she posted recently in which she flashed major side boob and some serious booty.
Kim, who revealed to Jay that she is "50 pounds down" with the help of exercise and the Atkins diet, explained that all of the criticism directed at her weight while she was pregnant "really did affect" her.
"It really hurt my soul," she said. "It changed how I am in the public a little bit...There were these stories where I was, like, 200 pounds. I was gaining weight because I was pregnant and it was really hard to read all these stories and hear all these nasty things. And I think people sometimes question, they think I'm out 'in hiding' now.
"No, I just wanted to kinda adjust my life a little bit because why would I subject myself to so much negativity, especially now that I have a daughter? I just didn't need that energy, I'd rather be in a happy place at home...I've definitely tried to live more of a private life because of that, because they were so nasty. Why even go out as much just to put yourself in that position?"