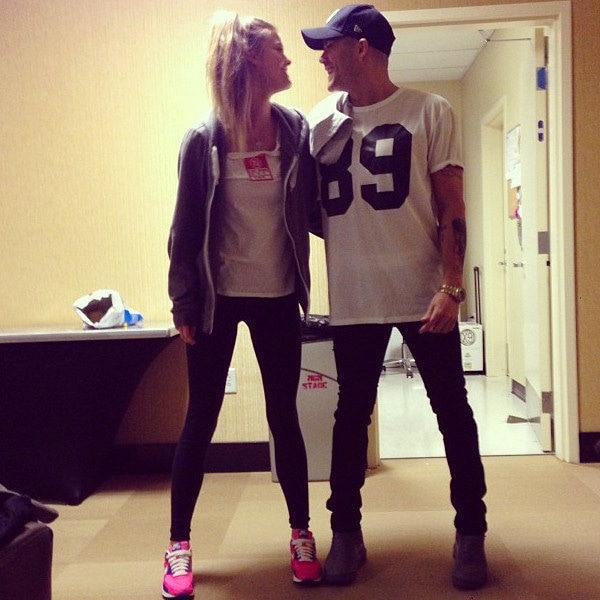 Instagram
The Wanted's Max George is gushing over girlfriend Nina Agdal.
In a new interview with OK magazine (via Daily Mail), the boybander opens up about his love for the Victoria's Secret stunner, revealing that not only is she absolutely gorgeous, but she's also incredibly down to Earth (what a catch!).
"She makes me laugh. She's so funny and daft. She's not at all high-maintenance—she just likes to have fun," the 25-year-old hunk said of his 21-year-old ladylove. "She's just a mate and obviously, yes, she's absolutely stunning."
Too cute! The British singer also reveals how he pursued Adam Levine's former gal, admitting he believes their relationship works because they first started out as friends:
"One of the [British rock band] Lawson boys mentioned her to me, so I started following her on Twitter, then we ended up bumping into each other in L.A.," he shared. "We became friends quickly and we got on really well. We stayed friends for six months and eventually we said, 'Shall we make a go of it or what?' I'm no relationship expert, but I like the way this one's happened. I wouldn't change anything."
And George, who was previously engaged to soap star Michelle Keegan, says he's learned from his past and was careful not to jump into the romance too quickly: 
"I've learnt my lesson from that not to dive in. You live and learn, don't you?"
Agdal, who has previously modeled for Sports Illustrated, recently showed off her incredible bikini bod in a new swimwear photo shoot for La Boheme.
The Danish model flaunts her supertoned tummy in a variety of colorful two-pieces, smiling for the camera while striking a sexy pose.
Nina, who is busy traveling with her man and his bandmates, also flashes her enviable backside in another shot while rocking a gold bohemian headband, bright purple lips and cheeky bikini bottoms.
"She's the most beautiful girl I've ever seen," Max gushed. "She lights up the place and everyone loves her—all the boys, our security guard and our tour manager."
We're not surprised!