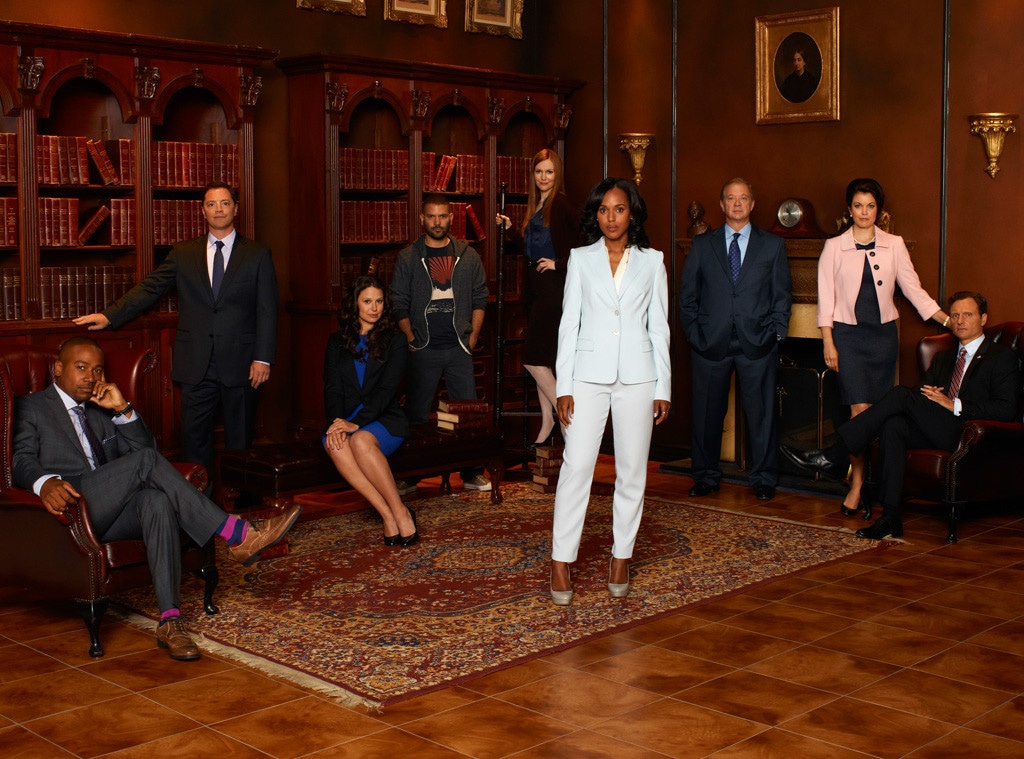 Craig Sjodin/ABC
Kerry Washington is pregnant. Which is not so scandalous on account of she's a married woman and there have been rumors swirling for months that she might maybe is probably pregnant.
Olivia Pope may or may not be pregnant. Sources say it's "unlikely" Kerry's pregnancy will be written into Scandal and, in our humble opinion, that's the best route: It may slow things down a bit if Olivia has to stop and pump between yelling at someone at the White House and yelling at someone at Pope & Associates.
But Burberry coats and designer handbags can only cover a bump so long before it's super distracting. And if Olivia Pope is pregnant, that's going to be scandalous as hell—exactly how scandalous depends on who the baby's daddy would be: 
President Fitzgerald Grant: If Olivia is going to be with child, this is the most likely candidate: Fitz (Tony Goldwyn) turns one of the duo's late night "Hi." "Hi." "Hi..." "...Hi." conversations into an Oval Office booty call and—uh oh!—he's all out of presidential condoms. 
How Scandalous Would It Be: Like when Olivia and Fitz banged at a baby's christening. Of course they did. Of course Fitz got Olivia pregnant. That said, the actuality of carrying the president's baby is pretty scandalous. And giving "Olitz" a baby would almost be worth it, just to see Mellie Grant (Bellamy Young) react.

Jake Ballard: Jake (Scott Foley) is basically squatting at Olivia's apartment now, so there would be ample opportunity for the two to have let's-stop-talking-about-Operation-Remington-cause-I-don't-even-know-what's-happening-anymore sex. And sex can sometimes lead to—uh oh!—a baby.
How Scandalous Would It Be: Like when we found out Cyrus was the one who had Amanda Tanner killed in season one. Surprising? Sure. But probably for the best.
Huck: Olivia is Huck's (Guillermo Diaz) shoulder to lean on, and vice versa. One night, the two lean a little too far—"I'm a lonely killer with a long-lost family!" "I'm a lonely hot mess!"—and fall into bed. Uh oh! Guess who's not lonely anymore because they're parents?!
How Scandalous Would It Be: Like when Olivia said, "Dad?!" and we realized that her damn father commissioned a sex tape of his own daughter. That's just wrong. Just so, so wrong.
Harrison Wright: There was one point in the series where it seemed like Harrison (Columbus Short) might have some sexual tension with Olivia. Apparently he didn't? With Olivia, or Abby, or anyone ever. So the writers throw him a bone (pun not intended) and—uh oh!—these BFFs just became FBs. 
How Scandalous Would It Be: Like when Mellie went on live TV and told the whole world that Fitz cheated on her. Nothing good can come of it.
David Rosen: Abby, with her fierce new blowout (one of our favorite season three storylines) finally realizes she's out of David Rosen's (Joshua Malina) league. David Rosen goes to OPA to convince Olivia to help him win her back but instead—uh oh!—they take their white hats off. And then some.
How Scandalous Would It Be: Like when Billy Chambers was the mole. Uh, didn't see that one coming? But OK?
Cyrus Beene: Cy (Jeff Perry) and Olivia split a bottle of late-night wine while whining about how stupid Fitz is. Maybe things aren't so good at home with Cyrus' husband, James. One thing leads to another. One bottle of wine leads to two. And—uh oh!—things get weird.
How Scandalous Would It Be: Like when Supreme Court Justice Verna Thornton put a hit out on the President of the United States. AKA SUPER SCANDALOUS BUT DOESN'T MAKE A LICK OF SENSE.