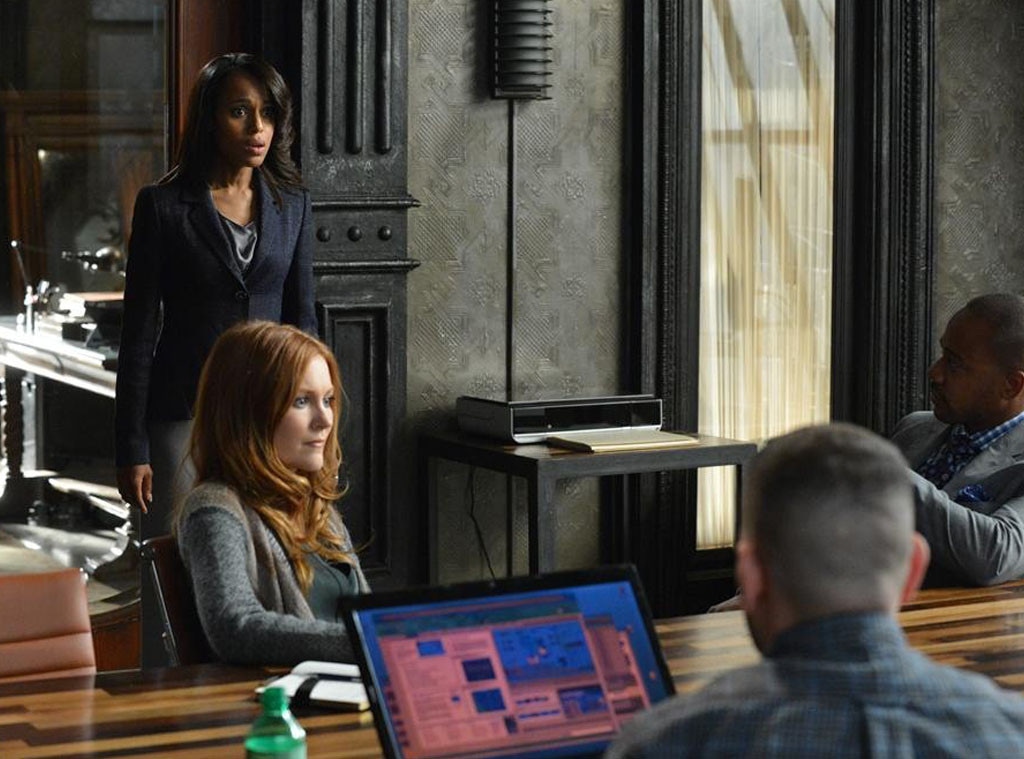 ABC/Eric McCandless
Somewhere, Mellie is in a bitter rage.
Kerry Washington is pregnant, a source has confirmed to E! News.  So naturally Scandal fans are asking, will her character Olivia Pope also end up with a bun in the oven?
Sources tell E! News that ABC and executive producer Shonda Rhimes are in the early stages of figuring out how to address Washington's pregnancy on the show. However, one insider insists it's "unlikely" that Olivia Pope will get pregnant, saying, "It would slow Olivia and the show down." We are told the most likely scenario is that Washington's pregnancy will be hidden and the production schedule will be slightly altered if needed. So far, no changes have been made to the production schedule, aside from Kerry taking this week off to prepare for her hosting stint on Saturday Night Live this weekend.
We recently asked Kerry herself if it's a possibility for Olivia to get pregnant, and she replied with a laugh: "I don't know. God, those are Shonda questions! I really never know where the show is going. That's the part I love about television, you just don't know what the beginning the middle and end is going to be, so really anything can happen. Olivia can die, she can get married, she can get pregnant—anything can really happen."
If Olivia were to get pregnant, the two most likely fathers would be her love interests so far this season: Fitz (Tony Goldwyn) and Jake (Scott Foley). Of course, given that Jake is currently plotting to kill Olivia's father, and Fitz is the POTUS and a married man, that could throw a little wrench in family gatherings.
This isn't the first time Shonda has had to take one of her star's real-life pregnancy into consideration as Ellen Pompeo, Sarah Drew, Jessica Capshaw and Chyler Leigh all filmed Grey's Anatomy while pregnant. (Oh, the benefit of scrubs and lab coats!)
The only thing known for sure? Shonda Rhimes is a genius, evil mastermind of what we believe to be the best drama on television this season. So we aren't worried.
Scandal airs Thursdays on ABC.
—Reporting by Jennifer Cooper

Do you think Olivia Pope should get pregnant? Sound off in the comments and make your voice heard!