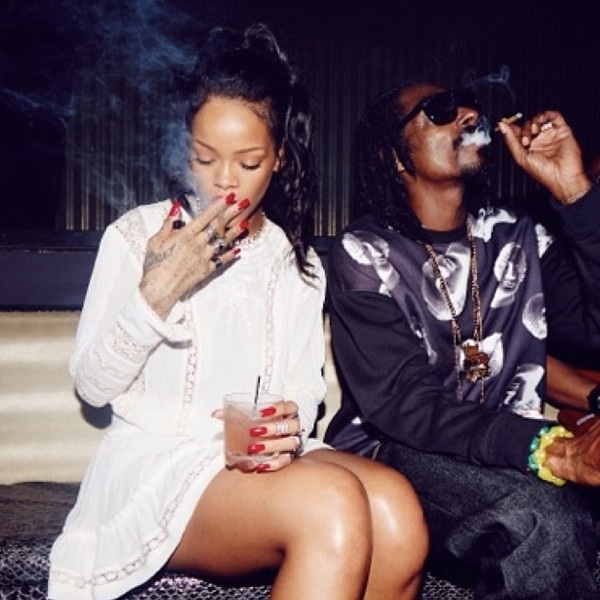 Instagram
Can you guess what Rihanna and Snoop Dogg's common interest is (and we're not talking music)?
The 25-year-old singer and 42-year-old rapper recently enjoyed a smoking session together during Snoop's Oct. 25 concert in Punta Cana, Dominican Republic.
RiRi took to Instagram recently to share a photo of the laid-back bonding moment, writing, "Chiefin wit a chief!! @SnoopDogg #DR by @gomillionandleupold." In the photo, Rihanna and Snoop hold suspicious-looking rolled-up cigarettes to their mouths while blowing out some hazy smoke. They seem to be enjoying themselves while puffing away as they sit next to each other.
During Snoop's Friday night show at the Hard Rock Casino and Hotel's ORO nightclub, Rihanna was seen singing and dancing in the crowd while Snoop performed on stage. The "Diamonds" singer was joined by her BFF Melissa Ford, who also danced, sang and threw her hands in the air to Snoop's music.
Meanwhile, Snoop rocked the stage in jeans and black sweater printed with images of statue heads.
"Great time b tha Dominican Republic last nite!" Snoop tweeted the next day. "Shout out 2 @rihanna 4 rolling thru !!"