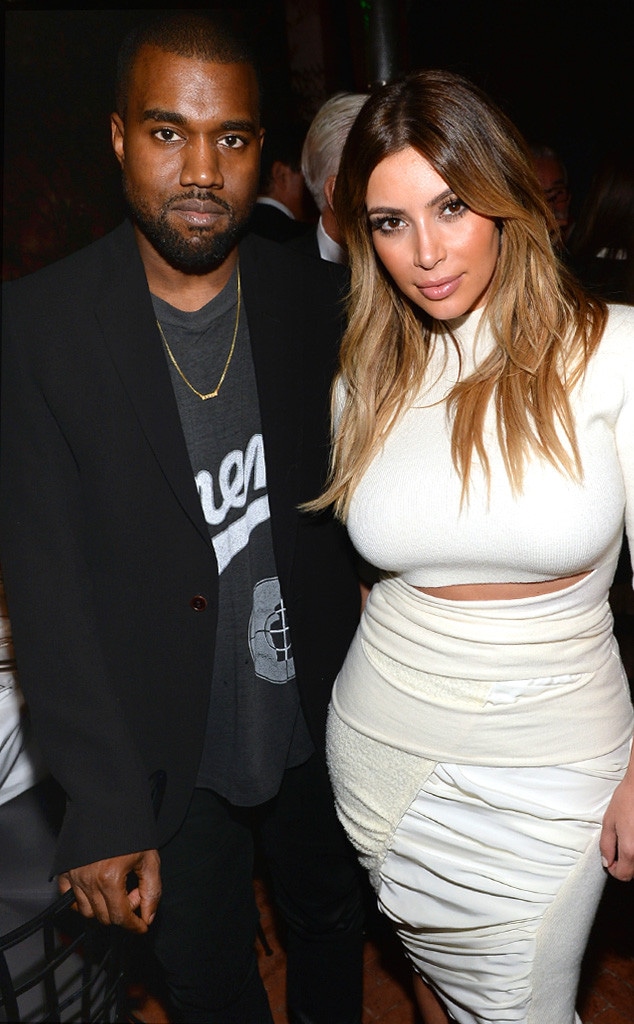 Courtesy of Michael Buckner/WireImage
It's not exactly a surprise that Kanye West is Kim Kardashian's biggest fan. The 36-year-old musician sang his fiancée's praises during an On Air With Ryan Seacrest radio interview on Tuesday, Oct. 29. In fact, he's lobbying to get the Keeping Up With the Kardashians star her first Vogue cover.
"There's no way Kim Kardashian shouldn't be on the cover of Vogue. She's like the most intriguing woman right now. She's got Barbara Walters calling her like everyday," he said, noting that reality stars have often been overlooked by mainstream fashion magazines. "And collectively, we're the most influential with clothing. No one is looking at what [Barack Obama] is wearing. Michelle Obama cannot Instagram a [bikini] pic like what my girl Instagrammed the other day."
When his girl landed the cover of CR Fashion Book, West saw it as a transcendent moment. "[Former French Vogue editor] Carine Roitfeld supports my girl. That's a breakthrough," he explained. "There's a wall of classism that we are breaking through."
West said it's not his intention to be controversial. "That's not my concern," he shared. "My concern is doing God's work and he'll work everything else out."
During his lengthy chat with Ryan Seacrest, the hip-hop heavyweight shared new details about his recent proposal and upcoming wedding. "The ring was four-hours-old from when I put it on her finger," he says of the 15-carat Lorraine Schwartz diamond. "I had to pick it up in L.A. I was working on it for a while. I was working on it with four different jewelers. I just put it in my bag."
"I was nervous. I was talking to her cousin. I was like, 'I don't know, what do you think she's going to say?' I'm not arrogant about love and feelings at all. I'm confident in the work I put so much work in to but this is someone else's feelings. You never know what someone else may feel at the time," he continued. "I just knew I wanted her to be my girl for a long time. I remember I saw a picture of her and Paris Hilton, and I remember telling my boy, 'Have you seen that girl Kim Kar-dijon?'"
Though he received Kris Jenner's blessing prior to popping the question, he kept his plans a secret from the rest of Kardashian's friends and family.
"Everybody that came in just thought it was a surprise party…As soon [Kim] heard the [Lana Del Ray] song playing, she just figured I was going to have Lana sing and we were going to have dinner. Because at a certain point she just knows I'm going to do something turnt up," he recalled. "So she was expecting something awesome. The guy who organized it was talking about this romantic lighting and I was like, 'Enough already! We're at a baseball field. It has to be fully lit!' That was one of the things that was making me really mad. I was like, 'Let me do it like how I would do it.'"
Kardashian, of course, said yes to West's proposal. The Grammy winner plans to be heavily involved in the wedding planning process. "I want to pick who is going to be in charge," he said. "I'd like to get the people who do the Chanel shows."
Whether he's proposing or performing, everything West does is a spectacle. And that's exactly how he wants it.
"When you say stuff like, 'I'm a creative genius', everyone looks at you like you're crazy. So I'm like, 'Okay, I'm about to turn up. I'm going to turn up on this engagement. I'm going to turn up on this show. I'm going to turn up on this merch we just did with this pop up store on Melrose.' I just had to turn up completely because I've been trying to create outside of the box of being a musician," he said. "And I've talked to people who would have the power to allow me to go to the next level and they just look at you like you're crazy or they just try to put you in like a music box, and at what point do you see something and say, 'Yo, he really might be like Walt Disney. He really might be that creative and not just a rapper.'"