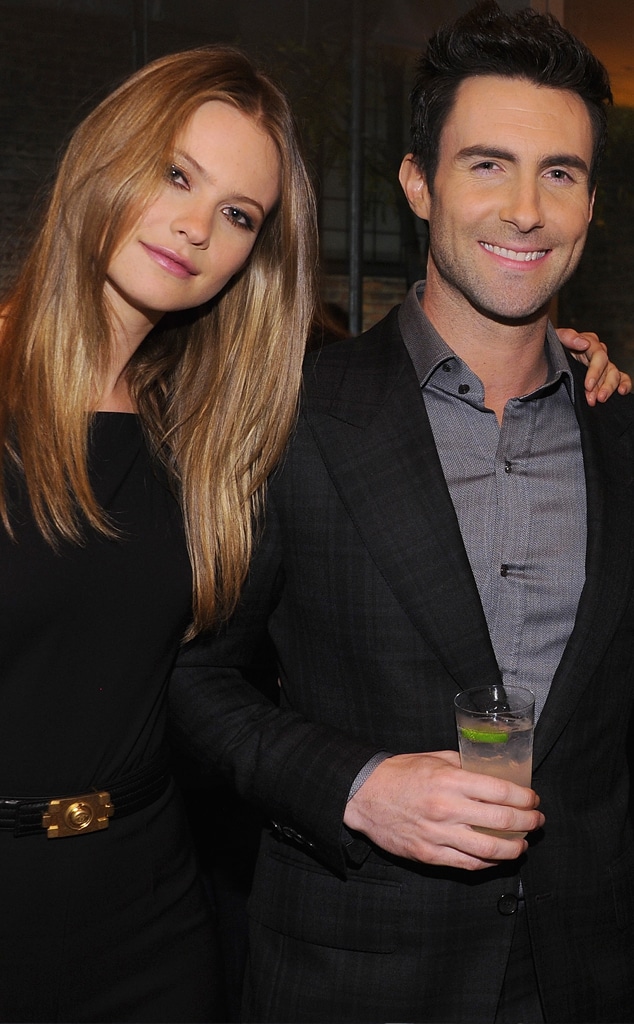 Dimitrios Kambouris/Getty Images for GQ
Adam Levine had a change of heart when Behati Prinsloo stole his heart in 2012. The Maroon 5 rocker, 35, and the Victoria's Secret Angel, 24, got engaged in July are dating on-and-off for a year. Levine stopped by The Tonight Show With Jay Leno on Monday, Oct. 28, where host Jay Leno teased him about previously swearing off the idea of marriage.
"I remember talking to you one time, you telling me you were never going to get married, and now you're engaged," Leno said. "Tell me what happened here."
Levine chuckled and said, "Famous last words: 'I'll never get married.' You know, I still don't think you have to get married, unless you meet someone that makes you want to marry them. And then you marry them and it's wonderful."
He and Prinsloo have yet to nail down a wedding date. "We're working on it," the Voice coach explained. For now, they're focusing on the immediate future—namely Halloween. "We're gonna do Eyes Wide Shut, the kind of creepy masquerade thing," Levine said, referring to director Stanley Kubrick's erotic thriller starring Tom Cruise and Nicole Kidman. "It's gonna be really creepy."
Later on in the interview, Levine opened up about the worst date he's ever had. (And no, it wasn't with Prinsloo or any of his other famous exes.)
When he was in his early 20s, Levine didn't have a credit card. "I had a checking account, so I had a very finite amount of funds in my account. I had like $172 or something. And I had a date, and we went to a nice place…maybe it was a little out of my price zone, and she just kept ordering so many things," he recalled. "And I was sweating because I was thinking to myself, 'Man, if you go over my limit, it's not gonna go down.'"
Levine's date ordered a bottle of wine and returned it when she didn't' like the taste. She also ordered "three desserts" and "nine espressos" during their romantic outing.
"I'm having the most terrible time because she's talking to me and I'm not listening. All I'm doing is thinking about my eventual demise," the rocker said. "So then, of course, the check comes, and I think I might have gotten in by a few cents. So it was a terrible tip, and I'm sorry to the waiter."
Now that he's a megastar, we can't imagine Levine will ever have to worry about that happening again.