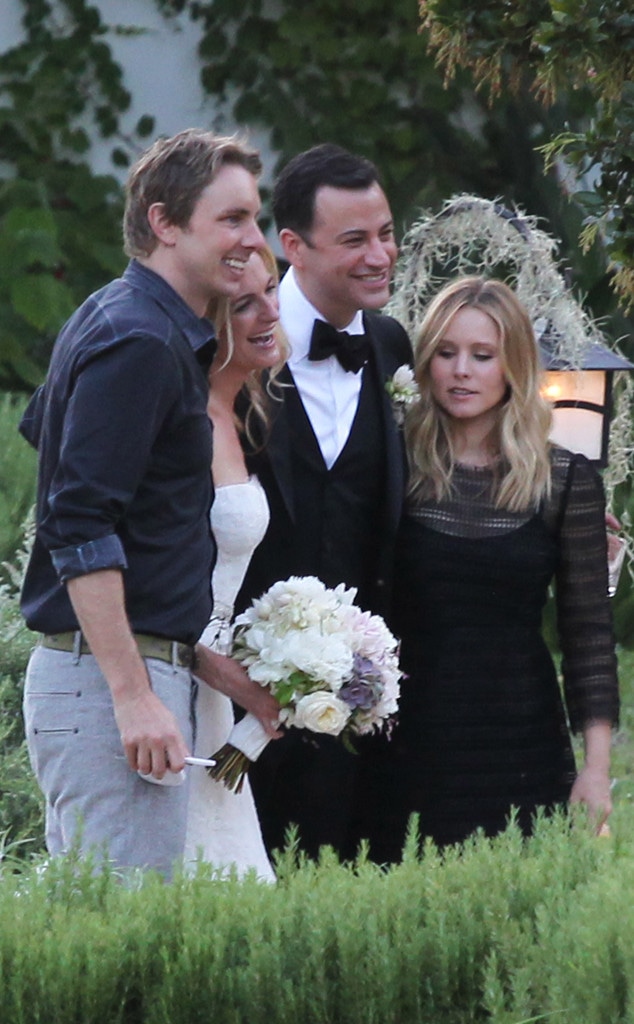 AKM-GSI
Dax Shepard feels like the "luckiest man in America" now that he can officially call Kristen Bell his wife. The When in Rome costars and LGBTQ advocates tied the knot on Oct. 17 at the Beverly Hills county clerk's office, just four months after same-sex couples were given the legal right to marry in California.
The Parenthood actor opened up about their no-frills ceremony during a Monday, Oct. 28, appearance on ABC's Jimmy Kimmel Live. "I'm a frugal person. Your wedding, when I was there, there were helicopters overhead. It felt like an episode of M*A*S*H," Shepard joked, recalling host Jimmy Kimmel's star-studded July 13 wedding to Molly McNearney.
"Not that I was counting your money, but I was counting your money at this thing, because it was flying out the windows," he quipped. "I mean, they were setting it on fire at the place!"
"I made a mental note when I watched that. I thought, 'I'm going to go a different way.' So we went to the Beverly Hills courthouse, and all in, with fuel to get there, $142 out the door," Shepard continued. "I don't yet have a ring. I am going to follow your course, because you got your ring at Costco."
Bell, meanwhile, has been rocking a "beautiful" and "expensive" engagement ring since 2010. "She's lazy," Shepard joked. "Do you know this about her? As hot as she is and talented, she's very lazy."
The newlyweds' pals are already teasing them about their spur-of-the-moment wedding. "Friends of ours came to the courthouse, and it was just Kristen and I at this lonely courthouse, so they brought us this cake afterwards," Shepard shared. "'The World's Worst Wedding.' How many people can say they threw 'The World's Worst Wedding?'"