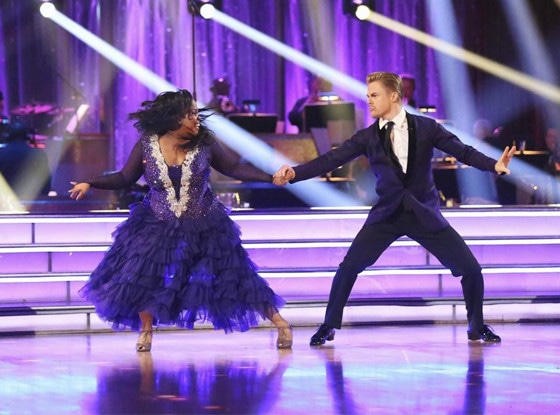 ABC/Adam Taylor
And yet another injury hits Dancing With the Stars, but this time it hit one of their Emmy-winning pros!
Derek Hough may not be performing on tonight's DWTS episode due to a severe back injury, E! News has confirmed with ABC.
"His back is hurt. He's getting treatments now," a source reveals to us. "He's not doing dress rehearsal."
Our insider also insists that he will try and work through his injury and dance with partner Amber Riley tonight, but as of right now his performing status is unknown.
According to Us Weekly, who first reported the injury, Hough has to get medical clearance before he's allowed to step one foot on the dance floor. If he can't perform, his Glee star partner will pair up with pro Henry Byalikov.
The four-time DWTS champion tweeted the above photo on Sunday of himself getting what could be a cortisone shot to his back in order to dance through the pain. Hough also posted last Monday that his back was "a little tweaked" before the show, but apparently that little tweak has turned into a very big deal.
Hough reportedly has been battling this injury since first hurting his back in season 15 while dancing with Shawn Johnson. Clearly, his condition is of the chronic nature, and it's not the first time Hough has suffered a serious injury. When dancing with Ricki Lake in 2011, he dislocated his shoulder!
He told us back then that he's used to all the pain and problems that come with his profession.
"I'll be fine. It happens in dancing. You move on," he said.
Here's hoping Hough doesn't rush his recovery and comes back in full force soon!