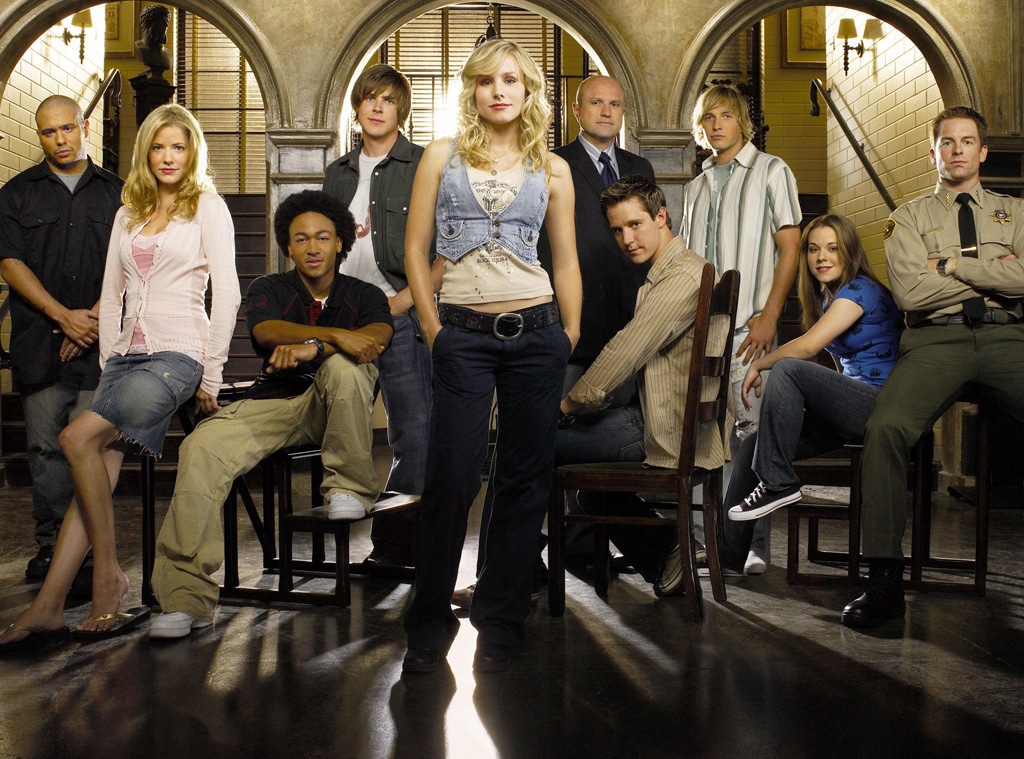 UPN
Six years later and the debate is still going strong!
Fans of Veronica Mars have been in a civil war since the beloved series' third season. The cause of this war? Love, of course! You see, Rob Thomas introduced Chris Lowell's Piz as a new love interest for Veronica (Kristen Bell) when the series moved from high school to college. The fans rooting for Veronica and Logan (Jason Dohring) were less than pleased, to put it mildly. And the love triangle is still going strong when Veronica & Co. return to us in the highly anticipated movie, set to be released in spring 2014, that opens with Veronica living in New York City and dating Piz. (Cue cheers or jeers, depending on your camp!) But Logan still has quite the effect on our girl, Marshmallows.
In an email to the movie's Kickstarter backers, Thomas released new footage of the Veronica Mars movie, which features the cast weighing in on the big love triangle debate and teasing what fans can expect from the film.
In the clip, Bell reveals Veronica is brought back to Neptune after receiving a call from Logan, asking for help after he's been charged with murder. Typical Echolls problems. "Logan's pull is too much for her, always," she explains.
So where does Bell weigh in when it comes to Logan vs. Piz? "Here's the thing. The bottom line is Piz treats Veronica better. Period," she explains. "Does she have more sexual chemistry with Logan? Sure. But often times I look at her and think, 'Why can't you just accept this boy that treats you nicely?!"

Thomas is also conflicted when it comes to the two men in Veronica's life, as he says, "I have an 8-year-old daughter, and when she grows up, I hope she meets a nice Piz. But at the same time, I realize that, in fiction, just unbridled passion counts for a lot."
Also in the email, Thomas reveals that the movie was screened for the first time in front of a test audience and things went very, very well. "The crowd reaction was everything I hoped for. People were laughing and gasping and cheering. As a TV writer, I rarely get to experience audience reaction," he writes. "I could get used to that feeling. Our distribution partners at Warner Bros. were also very pleased by the feedback and excited about the movie. The scores made me happy to the point of unseemliness."
But Thomas was open to constructive criticism, joking, "We're now adding dogs and reshooting large sections with Logan and Keith with their shirts off."
The Veronica Mars movie is set to be released in spring 2014.
Are you Team Piz or Team Logan? Sound off in the comments!