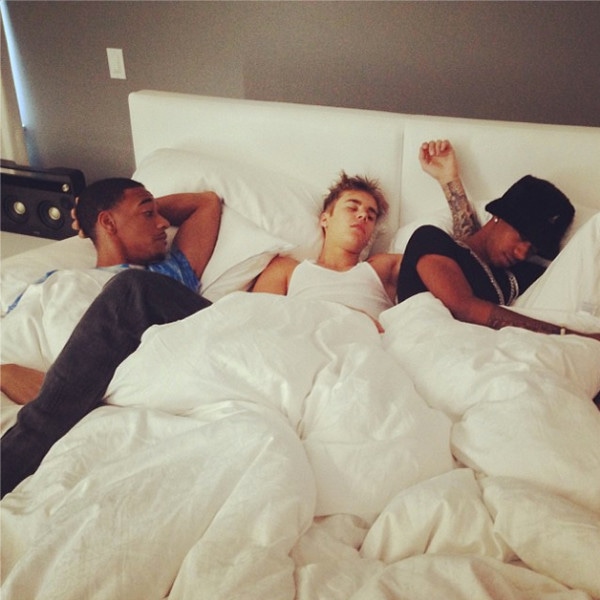 Instagram
Justin Bieber doesn't share his bed with just anybody. Rapper Lil Za posted an Instagram picture of himself cuddling in bed with the pop star and fellow hip-hop artist Lil Twist on Saturday, Oct. 26. The tattooed trio looks serene in the snapshot, with Lil Za gazing at his homeboys as they nap beside each other.
The next day, Bieber used his social media presence to highlight Pencils of Promise, a non-profit organization that aims to make education more easily accessible in the developing world.
"Today was 1 of the most powerful and humbling days of my life," he tweeted on Sunday, Oct. 27. "Thank u Guatemala & @PencilsOfPromis. Today I saw real happiness. So powerful."
Bieber also posted a video to his official YouTube page, where he went into greater detail about PoP.
"Today was probably one of the most magical days of my life. I got to visit a place, a place that I didn't even really knew existed. So many, many beautiful children who are very, very less fortunate. And I'm not talking about poor, I'm talking about 10 people living in a little shack. It was just a wakeup call for me," he said. "It was like, any problem that I have, it's nothing. It's nothing at all because these kids have absolutely nothing. They have no food, no water, no education, yet we're stressing over the little things and they're just so happy."
Bieber added, "I'm doing this because it makes me happy. But it's also helping so many other people."
Kapture / London Entertainment
Selena Gomez's ex-boyfriend said he was proud to assist in building a school for children who "wouldn't have had the opportunity" to get an education otherwise. "I'm so happy that I get to do what I do and I know that my music is inspiring, but that's not it," he said. "It's, like, I can make a change in so many different ways."
"I even think it's corny sometimes when people are like, 'Everybody singlehandedly can make a difference,' but it's not. Because today was a prime example. Five of us went out there, and us five singlehandedly made a difference in that community. So each and every one of you, no matter how old or young you are, you can make a difference," he said. "You can make a big difference."
Later that night, Bieber shared yet another new song with fans. "It's here. One of the most important songs to me I've ever written. #Recovery. Hope it helps you!" the 20-year-old musician told his 46 million Twitter followers. "Recovery is too powerful to not be recocnized ...."
The mid-tempo R&B track samples Craig David's 2000 hit "7 Things."
"First, I'll acknowledge all trust has been broken /A successful recovery, I pray for us at night," Bieber sings. "Grants me with a second chance / Never thought I'd see your face again / Learning life through trial and error /Just tryna make it right."
This is the fourth track Bieber has released in recent weeks, following "Hold Tight," "All That Matters" and "Heartbreaker."