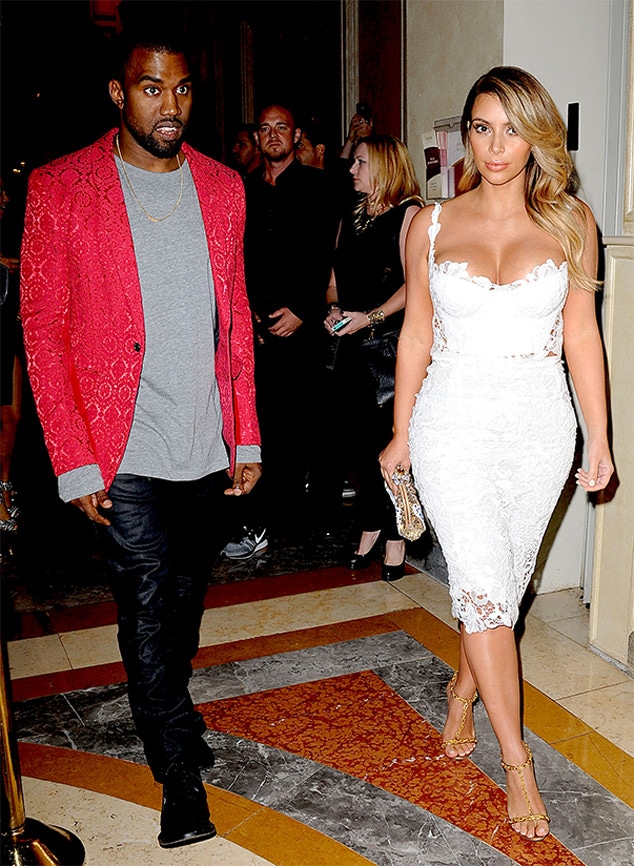 All Access Photo / Splash News
Kanye West made a stop by Power 106's morning radio show Big Boy's Neighborhood on Monday and discussed everything from his romantic proposal to Kim Kardashian to his Yeezus tour.
West explained to host Big Boy that he had some normal jitters just before asking for Kim's hand in marriage.
"I was nervous a litt bit," he confessed. "But more about everything being on cue."
The "Can't Tell Me Nothing" rapper also couldn't stop gushing about his fiancée.
"I wanted to marry that girl from the first time I saw her," he admitted. "Kim and I are the perfect balance."
But West said that he "had to wait through a bunch of other relationships to finally get the chance" to be with the 33-year-old.
Denise Truscello/Wire Image
He credited "patience" in helping him wait to for the stunning brunette.
West also told Big Boy that after three years of not owning a cellphone, he bought one to communicate with Kim right after she had split from Kris Humphries.
And the rest, as they say, is history.
When asked if there was any sentimental meaning behind his elaborate proposal at San Francisco's AT&T Park, West said that he "just thought it would be dope."
"[Kim] knew I was eventually going to ask her to marry me," he added. "I just had to get that ring right. I worked with four different jewelers. Three rings were made and only one hit the ringer and that was Lorraine [Schwartz]'s. I actually changed the ring the night before. The ring was less than four hours old when I gave it to her."
So did everything go according to plan?
Maciel-RS-Jack-Malack/X17online.com
"They didn't have the lights exactly how I wanted them to be," explained the self-proclaimed perfectionist. He also shared that he wanted Lana Del Rey to perform live but settled on the orchestral version of her ballad "Young and Beautiful" instead.
Yeezy, who's never been one for modesty, joked that he may have set the bar too high for men figuring out how to pop the big question.
"I gotta apologize to the race of males for turning up so much."
West, who referred to Kim as his wife multiple times throughout the interview, confessed that the two are aiming for a wedding sometime "next summer."
And it seems like the wedding will match the over-the-top engagement, naturally.
"Two words: fighter jets," West said when asked for a hint about his upcoming nuptials.
Wow!