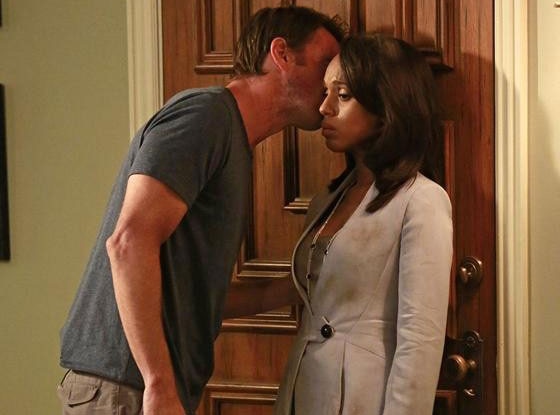 ABC/Ron Tom
Back up everyone!
We've got a steaming hot pile of spoilers for you and we don't want you to get burned by all the delicious drama! To kick off the week, today's edition of spoiler chat features exclusive insight to all your favorite shows.
Red on for scoop on a new badass headed to Scandal and she's looking to go head-to-head with our flawless leader. Once Upon a Time's sexy star Collin O'Donoghue spills secrets on the fate of CaptainSwan and we've got exclusive information on what's ahead following last night's mind-blowing episode of The Good Wife. All that and much, much more in Spoiler Chat…
Wendy: I'm a simple woman…I just want Scandal spoilers.
You know how every time you watch Scandal you think to yourself: 'Damn, Olivia Pope is a real badass'? Well, in an upcoming episode, Olivia might come face to face with another woman who quite possibly is more intimidating, more badass and definitely more dangerous than her. Prepare for a tough women showdown! Let's hope Olivia has come to win. What are we saying, she always does that!
Jaime: The Good Wife was amazing last night! One of the best episodes of TV ever. But what the hell is going to happen next?!
Um, we guessed you missed our awesome post-mortem with Matt Czuchry?! How rude! But we'll forgive you this one time and let you know Florrick, Agos & Associates is not going to have it easy. "You're going to see them struggle a lot in the beginning of it," Czuchry tells us. "They're a start-up firm, so they're going to have all the elements of starting a new venture, and that's putting the heat on for sure."
Lyla: So excited for the return of The Carrie Diaries! What's next?
Remember that bridal shop scene from Bridesmaids that is burned into your memory forever? The Carrie Diaries will have its own food poisoning situation at someone's birthday party in Friday's episode, and trust us when we say, it won't be pretty. But even more intriguing is Sebastian turning to Carrie after another heartbreaking situation with his dad, and you won't believe what she tells him.
Marc: I heard that Parks and Rec went back to Indianapolis to shoot at the Colts stadium. As a Colts fan, I need to know why they wentback.
Mike Schur revealed the reason behind Parks return to Lucas Oil Stadium, and this time it has nothing to do with a bachelor party. The NFL has a program called Play 60, which promotes healthy activity among children. And which fictional town happens to have obese children? Pawnee, Indiana, of course. In the episode, Leslie will bus a group of kids to Indianapolis to run around with NFL players. Color us jealous.
Gina in Los Angeles: I've binged on Orange Is the New Black and I need season two spoilers like, yesterday.
OK, well we don't have a time machine so we can't go back to yesterday. But we can reveal what some of the cast told us about the new season. First of all, Jenji Kohan assured us that Laura Prepon would not only be back on the Netflix series, but she'll possibly be around "beyond" season two. And speaking of Piper and Alex, Taylor Schiling let us in on what's ahead for the couple. "I think Piper learns more about herself through that relationship as it evolves, and the relationship itself evolves," she says. "And I think, like any interesting relationship, anytime you'rereally in love with someone, and they reflect back to you all parts of yourself, you see yourself in new ways." Could a change be a'coming?
Ethan: Loving The Tomorrow People. What can we expect from Wednesday's episode?
Oh, you'll just learn why John hates Jedikiah so much, thanks to some illuminating flashback reveals. "There's a lot of history, a lot of drama there. But throughout the first season, we keep flashing back to that relationship, and that's very exciting," Peyton List teases of the duo's dynamic. "It's not just, oh this is what it was, and this is where they stand. It's like, no this happened over years, and years, and years, so there's a lot to play with. There's a lot there that the both of them get to sort of figure out. It's good."
Michelle: I still can't breathe after that unbelievable CaptainSwan kiss on last night's Once Upon a Time! What's next for my favorite couple?!
Prepare yourself CaptainSwan lovers because this ship is about to face a rough storm. Now that Neal is on the island and Pan oh-so impolitely revealed this news to Hook, we're about to witness a heated debate for Emma's heart. But Colin O'Donoghue exclusively tells us that Hook's relationship with Neal is "extremely complicated." He explains, "Even though now technically they seem to be about the same age, Hook is old enough to kind of be his father figure, and I think an element of him still sees Neal as that little boy." This is one stange love triangle. Especially when you recall that Hook used to hook up with Neal's mom!
Becca: I just can't get over how terrifyingly fun Ravenswood is! What's coming up in episode two?
Well my little thrill-seeker, prepare to get in touch with your supernatural side. We have strong suspicions that Miranda is one extremely gifted young woman—and we're not just talking about school. Nicole Gale Anderson tells us that by the end of the next episode, fans will realize just how genetically skilled Miranda really is. "There is a supernatural element." She explains, "I can't say specifically what it is in relation to, but in episode 2, everyone will find out her connection to the supernatural realm." Ohh! Color us intrigued!