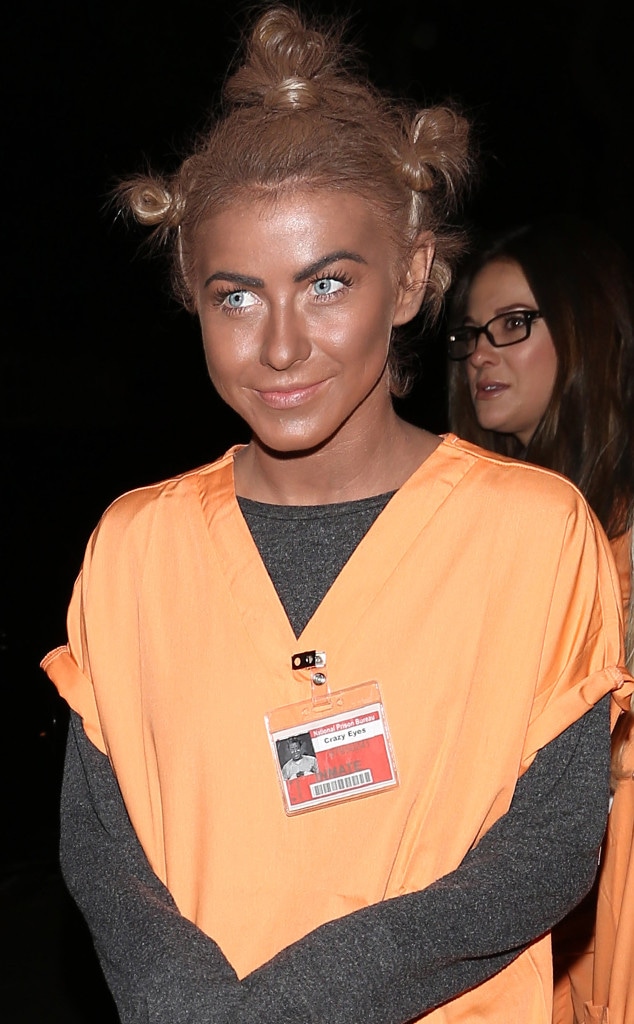 Devone Byrd, PacificCoastNews
Update: Julianne Hough apologized on Twitter for her Crazy Eyes costume on Saturday, Oct. 26, writing: "I am a huge fan of the show Orange is the New black, actress Uzo Aduba, and the character she has created. It certainly was never my intention to be disrespectful or demeaning to anyone in any way. I realize my costume hurt and offended people and I truly apologize."

____________________________
Julianne Hough opted for a controversial Halloween costume, donning blackface while dressing up as a character from the hit series Orange Is the New Black at a Halloween party on Friday, Oct. 25.
The 25-year-old actress was Suzanne "Crazy Eyes" Warren from the Netflix series, but we are willing to bet that all eyes at the Beverly Hills bash were on Hough for her surprising look.
In addition to the dark makeup, the Safe Haven star wore prison orange with a longsleeve gray T-shirt over her hands. She darkened her eyebrows and blond hair, which was styled in knotted nubs just like the fictional prisoner. She completed the look with an ID tag on her chest featuring the TV character, portrayed by Uzo Aduba. 
Devone Byrd, PacificCoastNews
Hough was joined by several other friends dressed an inmates, wearing matching orange outfits but no dark makeup. A male friend dressed as a prison warden and held a baton.
Crazy Eyes is a standout character from the critically acclaimed comedy drama series.
What do you think of Hough's costume?
(Originally published on Oct. 26, 2013 at 10:40 a.m. PDT)