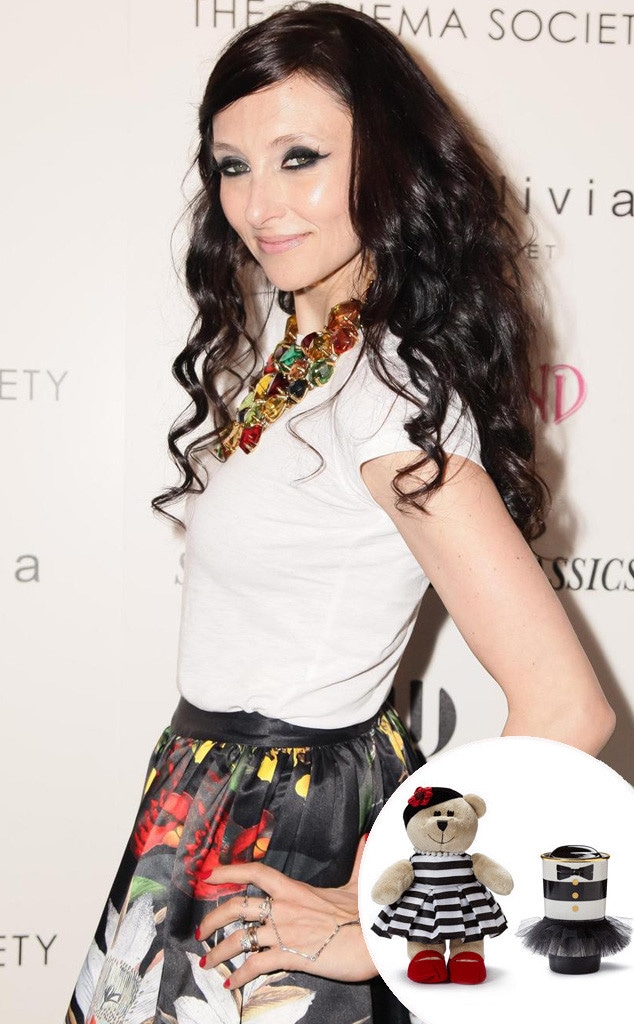 Matteo Prandoni/BFAnyc.com; Starbucks
If you love fashion and the holiday season, then ladies, you're in luck!
Starbucks is rolling out the cutest designer collaboration (in select stores Nov. 12, online Nov. 1) with Stacey Bendet of the whimsical and flirty fashion line, Alice + Olivia, this season, and we are completely smitten with what she came up with!
Bendet designed a Bearista bear, dressed to the nines in a striped holiday dress, pearls, beret and red shoes, plus an equally adorable striped ceramic tumbler featuring gold buttons and (what else?) a tutu!
Drinking coffee suddenly got a lot more stylish.
We scored some one-on-one time with the designer, who is opening new stores around the world in the coming months, to see what else is on her radar right now.
Here's what she shared:
What is your favorite coffee drink?
I'm a traditional soy latte girl. And then there's the pumpkin spice latte. It's a dessert treat!
What is your favorite fashion item?
I have a beaded laser cut jacket from my fall collection. It's light gray, it's my favorite piece. It's rockstar cool, really pretty because it's a lighter shade than you'd expect. We also did these over-the-knee-suede heeled boots in black that I've been wearing every day.
Tell us about your favorite beauty items? 
I love Bobbi Brown highlighter. It's called Opal or Pearl and gives a little sparkle to your cheeks. People always say my skin looks amazing and this is my secret. I also use Homeoplasmine, which is a cold cream cure all for any kind of dry skin or lips.
What are you listening to on your iPod right now?
It's a mix of Le Tigre, this '90 electro punk band, and Alabama Shakes!
What is your favorite meal?
Ellary's Greens for salads. I'm vegetarian, sometimes vegan and they do this kale salad with grilled mushrooms and butternut squash. It's so good!
Do you have a signature drink or cocktail?
Rosé champagne.
What is your favorite app on your phone?
Instagram! People don't realize that I do our whole Instagram! It is me. I love it, it's such a window in our world.
Do you have a favorite TV series?
I didn't even have a television until I moved in with my husband. I never watch TV!I love blogs and magazines too much. But I watched all of Breaking Bad and was slightly obsessed with it. I was kind of depressed when it ended.
What are your plans for Thanksgiving?
I love Thanksgiving, but I'm not such a good cook. I'm a smoothie maker. I make my daughters something called green milk. It's coconut water, spinach and banana. My youngest daughter will drink eight glasses and it's so healthy. We do a lot of Vitamixing at my house!
What is your fitness secret?
I do Ashtanga yoga. I work with Eddie Stern or at home by myself. I've been practicing for over 10 years.
My signature fragrance is…I don't have one. I don't like to wear perfume because it makes our fabrics smell.
What are your holiday plans?
For Thanksgiving, we're going to Turks and Caicos, then to Hawaii for Christmas. It's such a getaway…non-work time with kids and the husband. And I'm going to Tokyo to open our store soon. I have a busy rest of the year!
What is your favorite city in the world?
New York! I love the energy, the people, the fact that every few blocks is its own little country.