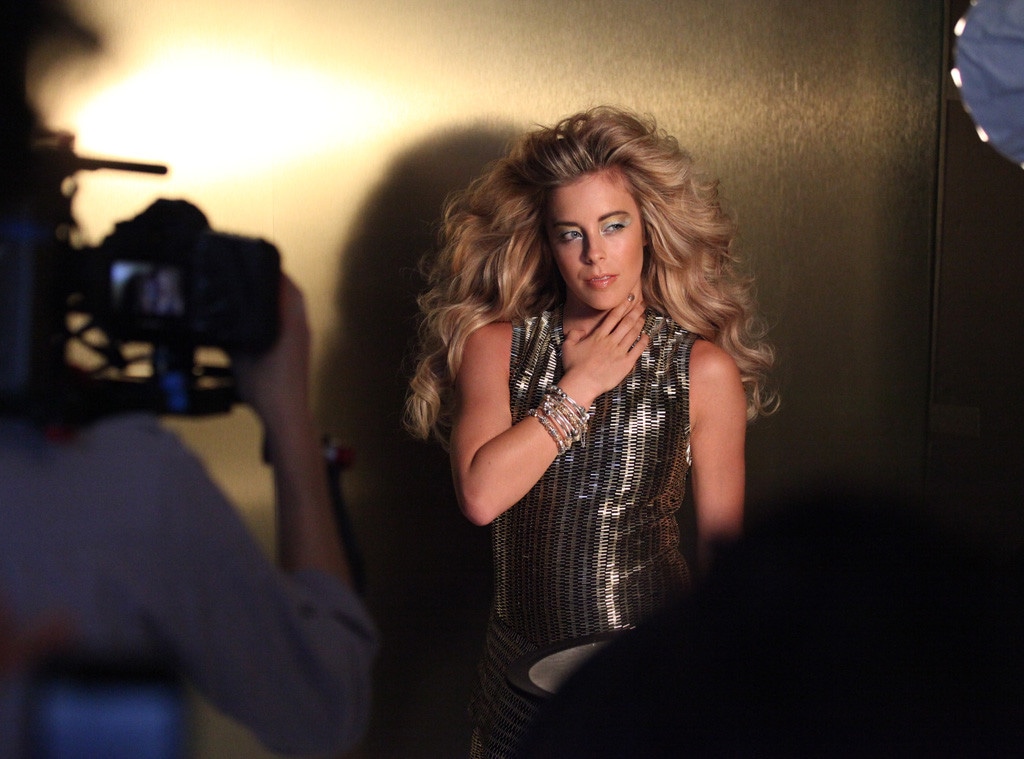 CoverGirl
Ashley Wagner knows a thing or two about makeup. The figure skater has been doing her own hair and makeup for competitions since the age of 8. Obviously, she's pretty good at it too, because the Olympic hopeful has just been named the face of CoverGirl.
Starting next year—just as the Winter Olympics are kicking off in Russia—she will be appearing in ads for the makeup company, not to mention modeling their products as she competes for the gold medal.
In fact, the 22-year-old already knows exactly which hair and makeup looks she's going to debut next February.
"I'm all set. I'm skating to 'Shine On Your Crazy Diamond' by Pink Floyd, so I'm going with a sexy rocker vibe with a nice dark smoky eye," she shared exclusively with E! News. "The ice washes you out, so you need something with a lot of color, which is why I use CoverGirl Flamed Out Shadow Pot in Molten Black. I'll also be adding a red lip."
KAZUHIRO NOGI/AFP/Getty Images
As for her hair, she says she's going to do a "high sleek ponytail with volume in the front."
And that's just the phase one of her Olympic beauty plan.
"My longer program is the opposite end of the spectrum. I'm skating to [music from] Romeo and Juliet, so my look is going to be soft and romantic: Gray eye shadow with little bit of brown and CoverGirl's Lip Perfection Lip Color in Rapture, which is a coral shade," she says. "I'm putting my hair up into this bohemian braid—It's actually kind of cool, I learned it from a YouTube video—It requires a lot of hairspray and prayer. I do two French braids and then tie the ends in knots and knots and knots and fold it under and pin it in."
While she's clearly open to try new styles, Ashley—who admires Tara Lipinski and Michelle Kwan—says one beauty look you won't ever see her spot is ultra-bright eye shadow. "I'm not one for neon colors."
That's not to say she's against bold hues when it comes to her costumes, however. One of her favorite looks of all time happens to be a marigold ensemble. "Last year I wore this really bright yellow dress and it was kind of daring because figure skaters don't usually wear looks as bright—but I loved it!"
And while most of us would be too shaky to be applying mascara before competing on the world's stage, she says her beauty routine helps keep her calm. "When I do my makeup it kind of helps me get into the character that I'm trying to portray. I get in my zone and I usually put on Sex and the City or something in the background. It's the best way for me to relax." she shares.
Too bad her dad doesn't share her nerves of steel—at least when it comes to watching his little girl hit the ice. "My dad will probably come [to Russia] but he cannot watch me skate," she says, laughing. "He gets so nervous. He has to be out of the building, he can't even hear it. He watches later, but it's so funny cause he's this strict, unemotional military guy normally."