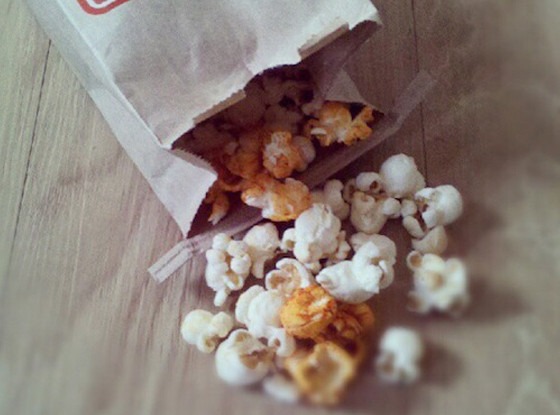 Oh, popcorn. You're an oldie but a goodie.
After all, who doesn't love this delicious snack any time of day?
And best of all, this childhood classic is all grown up in delightful new flavors, meaning it's certainly worth every ounce of salty goodness.
As these puffy clouds make their way to stylish bars and weddings, they now come dressed in a little more than traditional butter and salt.
That's right, popcorn comes in a wide range of zesty varieties, so there's officially something for everybody!
Fiery, feisty and at times, so darn fancy, the latest popcorn trends come in fascinating flavors and also pack maximim pop.
We tested for seasoning and flavor quality, as well as crunch and texture.
Here's what we loved!!
Pop Karma: With Leonardo DiCaprio being known to bike over and pick-up his stash, this New York-based popcorn house must be doing something right. The Kyoto mix features ingredients like seaweed, brown sugar, sesame and miso. Yum! Fancy something a little spicy and zesty? Try the Margarita, which certainly lives up to its promise of lime and there's a good hit of coconut, too.
Quinn: Now this is what we call microwave popcorn re-invented! From chemical-free bags to non-GMO ingredients, you can taste the difference. The hickory smoked cheddar is totally beyond! And the Vermont Maple and Sea Salt is sweet and salty with a flavor of sophistication (yes, sophistication is a flavor!)
J&D's Sriracha Popcorn: This is one bad boy popcorn that aims to 'kick in the face' and kick in the face it does indeed. With all those yummy Thai flavors in a bottle that we typically squirt on noodles, soups and sandwiches, this flavor hits home. For those of you who like sizzling kisses, a birdie tells me that there's a lip balm to match—just sayin. 
KuKuRuza: Feel free to serve these as a canapés at your next social function because they really are that stunning. The maple bacon is lacquered on the outside with smokey goodness while allowing for the loudest crunch of the pack. The black rasberry is perfect for midnight munchies and movie night and the jalapeno white cheddar is great to offer to your mother-in-law when she is talking too much! Rest assured that she'll be quiet for some time.
Angie's Boom Chicka Pop: With just 35 calories in their sea salt flavor and 37 calories in their lightly sweet option, my waist certainly does the boom chicka pop! This brand boasts real ingredients unlike a lot of low-cal counterparts with nothing but popped corn, sunflower oil, sea salt and cane sugar. Delish!