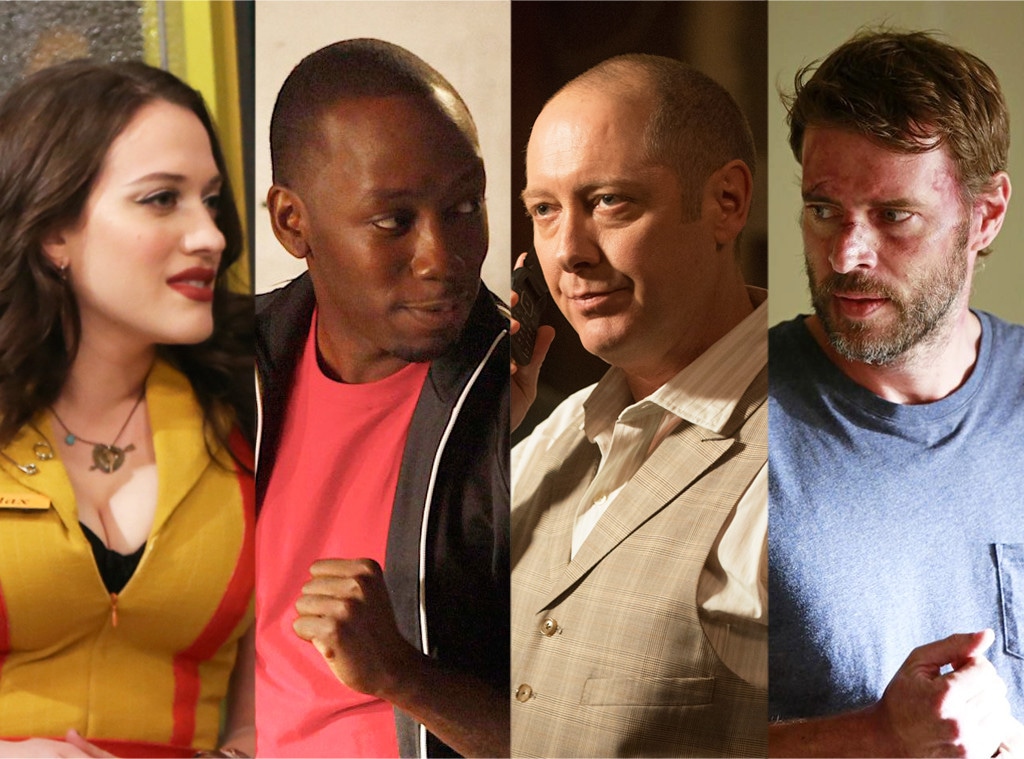 Monty Brinton/CBS/Greg Gayne/FOX/Barbara Nitke/NBC/Ron Tom/ABC
Happy Friday, everybody! How about we drop some spoilers on you to celebrate the arrival of the weekend? It's better than wine! Well, almost.
In today's Spoiler Chat, New Girl is about to answer a burning question about one of the men in the gang. And we talked to Scott Foley about what's ahead on Scandal, and he had lots of interesting things to say about Jake's upcoming storylines. All that, plus scoop on The Blacklist, Teen Wolf, 2 Broke Girls and more…
Maggie: Any New Girl spoilers?
Remember when Winston was a professional basketball player in Europe? Well, we'll be seeing a flashback to Winston's time in Latvia, more specifically, when he learned his basketball career was over due to injury, prompting his return to the loft.
Ryan: I need Scandal scoop stat!
There is a "distinct possibility" that we will see a face-off between former besties and Olivia's paramours Fitz and Jake pretty soon, Scott Foley teases. Just don't expect to see a flashback to their days in the Navy in upcoming episodes. "We have not seen that so far," he says. "We're on episode nine and we haven't seen it yet."
Quinn: Totally addicted to The Blacklist, so anything you can share would be appreciated.
Episode eight is a big one. Don't miss it. Oh, you want more than that? Fine. Not only does someone on the team get severely injured in the episode, but Red comes face to face with one of his mortal enemies. Someone Red is scared of? This we can't wait to see!
Lisa: My favorite Workaholics experts…what do you have for me?
This spoiler will not surprise you one bit if you know the guys. In an upcoming episode, Ders, Blake and Adam get mugged by a tough-as-nails chick, and are basically scarred for life. Until they realize they need that same woman to scare the pants off of another girl they loathe. Yes, folks, our favorite man trio will attempt to find a way to hit a woman without really hitting her. We expected nothing less.
Laura: Teen Wolf spoilers would be lovely, thanks!
Fans will be meeting two new Beacon Hills High students in episode 20: Oliver and Meredith, who both seem have troubled pasts. While Oliver is soft-spoken and has a quiet intensity, he'll prove to be a valuable source of info for one of our main characters, and Meredith is a lonely misfit who probably won't be looking to connect with anyone around her anytime soon.
Megan: Any fun stuff ahead for 2 Broke Girls?
One of the girls will enroll in pastry school and meet a possible new love interest in class. And Max does one of the most heroic things a person can do with their time on earth: She saves a life! Of course she's sassy and sarcastic while she does it, but still, it's impressive.
Kevin: Counting down the days until The Following returns! What can we expect?
The serial killer thriller is adding to its growing list of baddies as viewers will be introduced to two new villains in season two: a Lady Macbeth type, Julia is a femme fatale who is truly disarming as she can go from free spirit to deadly in the blink of an eye, while Micah is a deadly combination of evil and mentally unstable. Both will cause mayhem for more than a few episodes.
Wesley: I need more Nurse Jackie info. Is Grace still going to be the worst?
Yes, she will still be just the worst in the new season. In fact, she should be best friends with Dana "The Worst" Brody on Homeland. The reason Grace continues to be—say it with us, the worst, is because she is having trouble dealing with the way her family is changing. How is it changing? Well, we can't reveal that quite yet but safe to say it's a doozy. So Grace will continue to act out. Yes, her mom is a drug addict and her family fell apart due to that and infidelity but that doesn't give her reason to be so angsty. Wait, maybe it does…
Got a burning TV question? Desperate for scoop? Send your Spoiler Chat requests to TVDiva@eonline.com!