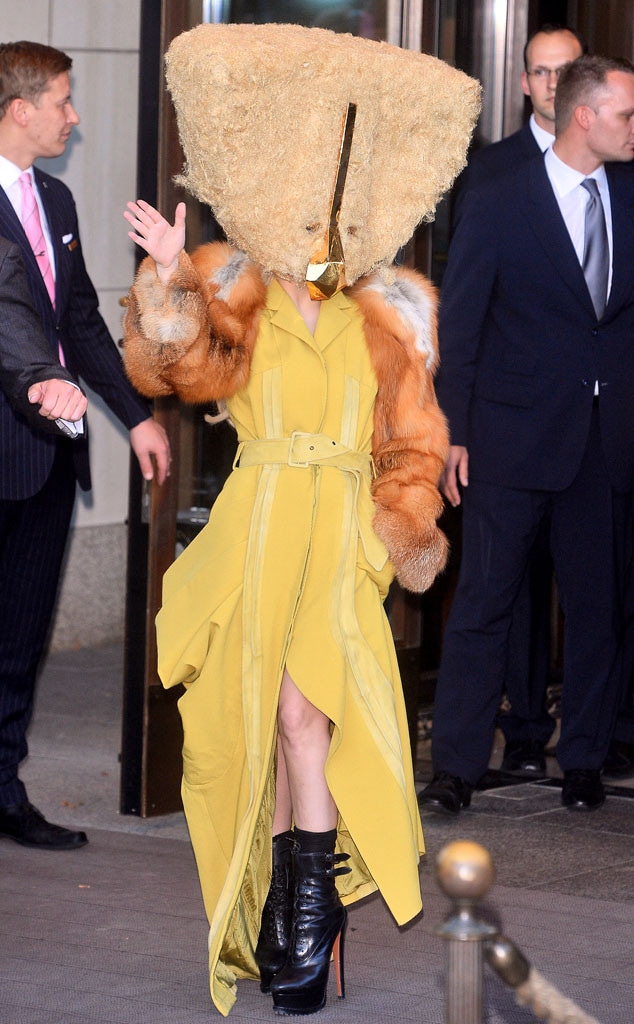 Splash News
Lady Gaga's latest cuckoo outfit? Let's just say it looks like something out of a futuristic Chicken Little movie.
The 27-year-old "Applause" singer stepped out in Berlin today wearing a bizarre, crazy, strange (should we go on?), giant bird-like mask over her head while promoting her new album ARTPOP.
Gaga's weird headdress was covered in what looked like soft tan feathers and a gold beak nosepiece between two eye cutouts. The pop star completed her look with sky-high black heels, a long yellow coatdress belted at the waist and a fur coat.
Gaga posed for pics in the unusual getup and waved to fans as she left her Ritz Carlton hotel.
"2day at AMPYA ARTPOP listening party in Germany I'll perform the world premiere of 'Gypsy' at the piano!" she tweeted earlier today. "Stream it tonight around the world!"
She also shared, "i'll be filming my beautiful berliners tonight as they hear ARTPOP for the 1st time! i cannot wait, so excited i might puke in my purse!!"
Earlier this week, Gaga released her new song "Do What U Want" featuring R. Kelly. Her album ARTPOP hits stores Nov. 11.