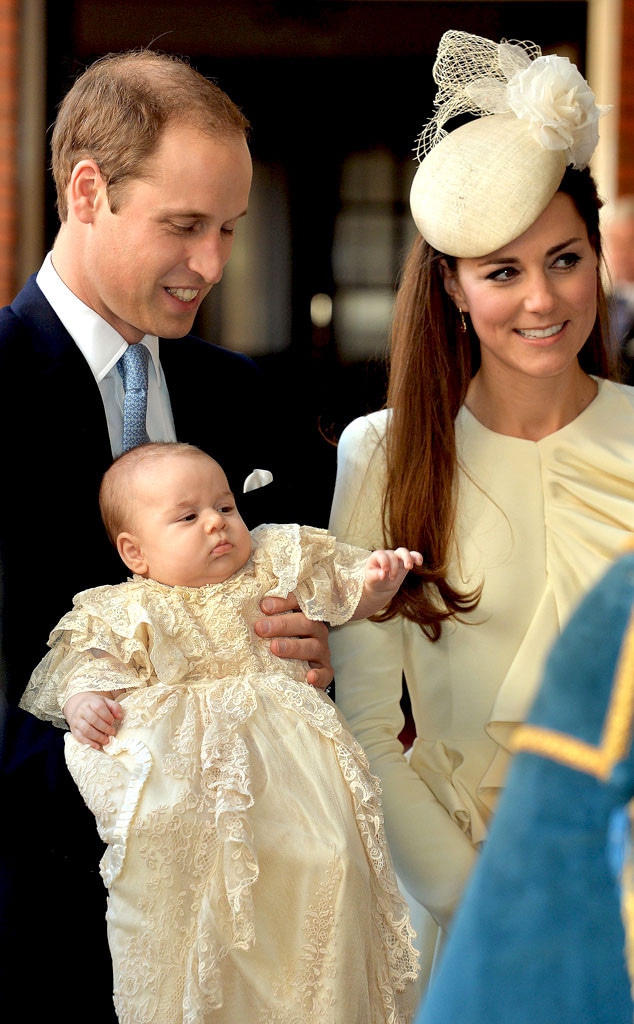 John Stillwell/PA Wire/Press Association via AP Images
Kate Middleton and Prince William were of course the picture of decorum and elegance at their son's christening today in London.
But how did the little man of the hour, Prince George, behave as he became the latest member of the family to be baptized, as per tradition dating back hundreds of years?
Like a royal angel, apparently!
"It's the first time he's been quiet all day," William joked inside the Chapel Royal at St. James' Palace, per the Telegraph, which also noted—and we fully choose to believe it—that the baby even appeared to wave at his grandmother, Queen Elizabeth II, while being bounced in his father's arms (a handy shushing method if there ever was one).
The Archbishop of Canterbury, the Most Reverend Justin Welby, reminded George's proud parents that their heavenly task going forward is to make sure that their son knows "who this Jesus is." 
"Speak of him, read stories about him. Introduce him in prayer. Help him to grow and flourish into the person God has created and has called him to be," the archbishop continued.
"For life to be complete, the living and trusted love of Jesus Christ is the foundation. That is something we grow into, live out, hold onto, and which finally carries us home. With Christ and his love as our centre, all the needs we meet are faced, all the hopes we have are shaped, and all the possibilities of our life journey are fulfilled."
And throughout, George, clad in his father's now-172-year-old Honiton lace royal christening robe, didn't make any fuss.
John Stillwell/PA Wire/Press Association via AP Images
Only 23 guests witnessed the christening: George's seven godparents and the six spouses among them; Kate's parents and siblings Pippa and James; the queen and Prince Phillip; Prince Charles and Camilla, Duchess of Cornwall; Prince Harry; and William's former nanny turned George's part-time nanny, Jessie Webb.
"It has been a tremendously joyful occasion for everyone involved," a Kensington Palace spokesperson said in a statement issued after the 35-minute ceremony.
After the ceremony, it was back to Clarence House for tea and the top tier of Will and Kate's wedding cake. It's a British tradition for couples to freeze the top of their cake and then serve it at their firstborn child's baptism.
The royal wedding cake was an eight-tiered spiced fruitcake (they're not just for Christmas in the U.K.!), made by pastry chef Fiona Cairns.
John Stillwell-WPA Pool/Getty Images