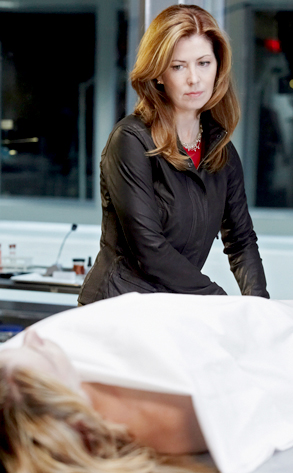 ABC/CLAIRE FOLGER
Someone must be having a series séance!
Sources confirm to E! News that ABC is considering bringing back Body of Proof, starring Dana Delany, which was cancelled in May after a three-season run on the network. As first reported by Deadline, ABC could be resurrecting the drama for a mid-season premiere.
According to our sources, the network is still assessing if it's even logistically possible to bring back the series, as the sets have been torn down and the actors (including Delaney) and writers have been released from their contracts.
As of now, the drama's former executive producer, Evan Katz, is now at the helm of Fox's highly anticipated continuation 24: Live Another Day.
We are told it's possible Body of Proof could be brought back with Katz in less of a hands-on producing role, given that 24 is shooting in London. It's also possible that production on Body would start after 24's limited run has wrapped.
However, according to multiple sources, it may be near impossible to reassemble the show—five-plus months after it was disbanded. (Fans, we'll keep our fingers crossed for you.)