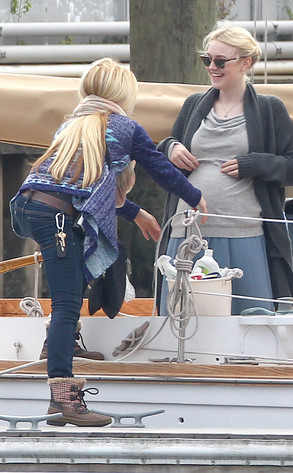 PacificCoastNews
Here's something we're not used to seeing!
While filming scenes for her new indie movie Franny in Philadelphia today, Dakota Fanning, 19, was snapped sporting a fake baby bump under her clothes.
The all-grown-up actress sported a long blue skirt, dark jacket and baggy gray top that hugged her big belly. Fanning, who was all smiles on set, completed her character's look with dark sunglasses.
Franny stars Fanning as a pregnant newlywed. Theo James costars as Fanning's hubby while Richard Gere plays a philanthropist who finds renewed purpose in life when he meddles in the lives of the young married couple in a bid to relive his past.