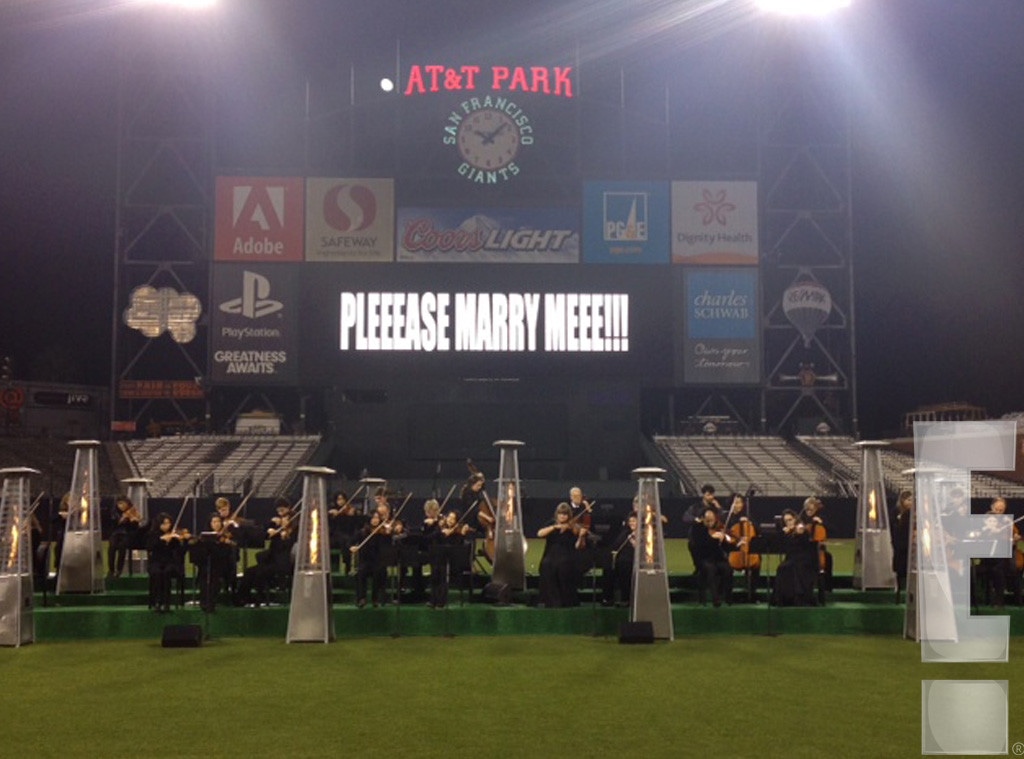 Courtesy of Kris Jenner
When it came to asking for Kim Kardashian's hand in marriage, Kanye West certainly spared no expense.
After all, the guy did present his now-fiancée with a stunning 15-carat diamond engagement ring by Lorraine Schwartz.
Sure, we don't have the exact dollar amount for the sparkler just yet, but celebrity jewelry expert Michael O'Connor told E! News that he estimates the rock is most likely in the $2.5 to $3 million range.
And while E! News has learned that the use of AT&T Park for the proposal was gifted to Kanye by the owner of the San Francisco Giants, according to the rate sheet on the stadium's website, it would have cost the rapper at least $200,000 to rent out the entire venue.
That doesn't even include the package that normally goes for $20,000 and includes features such as posting a personalized message on the scoreboard, like the one that Kanye did that read "PLEEEASE MARRY MEEE!!!" as well as the use of other video elements.
As for additional out-of-pocket expenses, Kanye hired a 50-piece orchestra that played Lana Del Rey's "Young and Beautiful," followed by Keri Hilson, Ne-Yo and Kanye's "Knock You Down."
David Schoenbrun, president of the Musicians Union Local 6 in San Francisco, told E! News that he estimates the cost was around $25,000 when the number of musicians, the time and the kind of work it was are factored in. If a rehearsal was involved, then it most likely would have cost another $5,000.
"This is a highly unusual reason to hire musicians to play for a wedding proposal," Schoenbrun said. "This is as opulent as I have ever seen for a proposal. I have seen large orchestras hired to play large weddings and various venues, which is fairly common. I have seen them in churches and even circus tents, but never a ballpark."
E! News has also been told that Kanye booked San Francisco's top caterer for the event, which no doubt added more than a few bucks to the final tally.
Of course, when it's all said and done, can you really put a price tag on love?
—Reporting by Senta Scarborough and Jennifer Chan

For the complete story on Kim & Kanye's engagement, tune into E! News on Tuesday at 7 p.m. & 11:30 p.m.