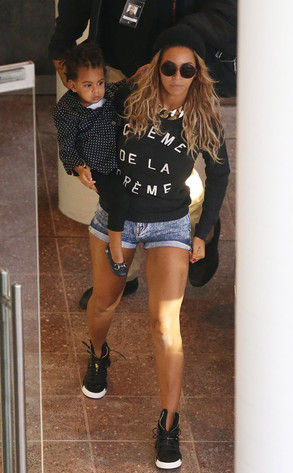 Splash News
It's a good day for Bey, mate.
Beyoncé was photographed arriving at Melbourne's Rod Laver Arena carrying daughter Blue Ivy in her arms ahead of Tuesday night's kick off of the Australian leg of her Mrs. Carter Show World Tour.
And boy does the R&B songstress look to be in great shape, rocking a crème de la crème sweatshirt, black sneakers, and denim shorties showing off sexy legs which, thanks to all that dancing, have not an ounce of fat on them. She completed her look with sunglassses and a gold AllSaints Valtari necklace
While the 21-month-old toddler has her mom's fashion sense, sporting a black and white polka dot top, black pants and slip on shoes.