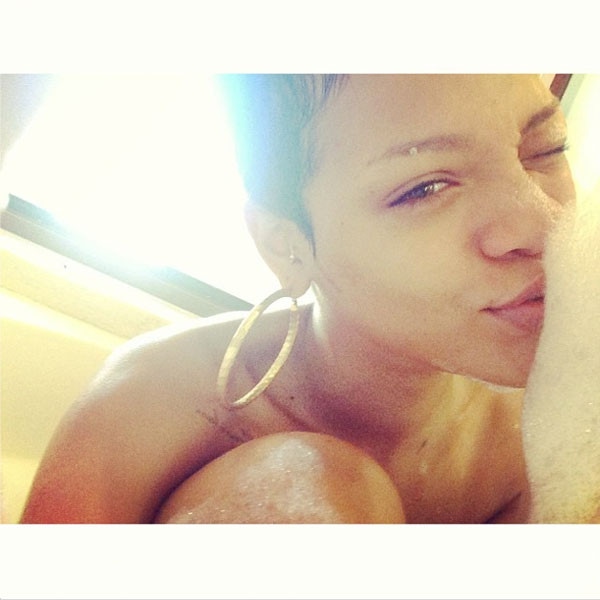 Instagram
Rihanna doesn't like being told what to do.
And following a recent bit of controversy over the weekend, it seems as though the pop star is acting out by taking it all off.
RiRi shared a few pics of herself taking a bubble bath in the buff—and sans makeup—on her Instagram account.
She appeared wearing nothing but a pair of silver hoop earrings and playing around with bubbles in her massive tub.
The "What Now" singer captioned one of the pics "She. #greece." Talk about racking up those frequent flyer miles!
Just days ago, the 25-year-old was in Abu Dhabi, where she ran into a little trouble with a few religious leaders.
Decked out in a black jumpsuit and head scarf, Rihanna ditched her usual scantily clad garb and kept in line with Abu Dhabi's dress requirements for women, who generally cover up their entire bodies for religious reasons, except for their eyes and hands.
But it seems that her ensemble wasn't the issue during her visit of the Sheikh Zayed Grand Mosque, one of the United Arab Emirates' capital's biggest tourist attractions.
Mosque officials did not approve of the snapshots claiming that RiRi was in an area that's normally off limits for visitors and that her impromptu photo shoot violated the rules on the "sanctity of the mosque."
They then asked the singer and her entourage to leave the compound entirely. Whoops!
Clearly she's living up to her Instagram name—BadGalRiRi!
The following day she performed at Abu Dhabi's du Arena Sunday, wearing a white baseball cap and an all-white conservative outfit—tank top, baggy, wide leg pants and sneakers.
Even covered up, she can't help but land in hot water!