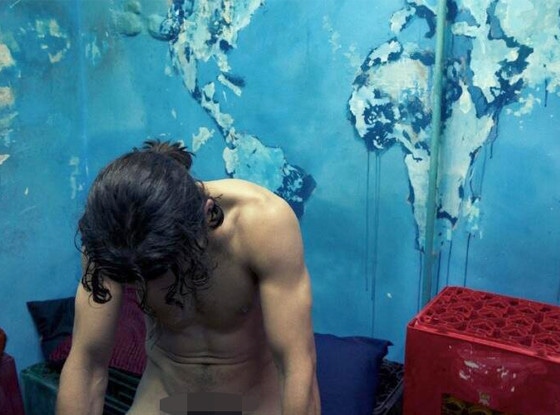 Twitter
It's Shia LaBeouf in the buff—again! More than a year after the actor appeared fully nude in Sigur Ross' "Fjogur Piano" music video, the 27-year-old is dropping trou on camera once more for his new romantic comedy action film, Charlie Countryman.
LaBeouf shared a NSFW sneak peek via his Twitter account on Sunday, Oct. 20. The picture gives a glimpse of the star going full frontal in director Fredrik Bond's latest effort. "tune in, turn on, drop out - #CharlieCountryman 11/15," LaBeouf tweeted.
To prep for his role in the film (costarring Evan Rachel Wood and Rupert Grint), the former Disney Channel star decided to take LSD in order to better understand his character.
"There's a way to do an acid trip like Harold & Kumar, and there's a way to be on acid," LaBeouf told USA Today in 2012. "What I know of acting, Sean Penn actually strapped up to that [electric] chair in Dead Man Walking. Those are the guys that I look up to."
LaBeouf also photographed his private parts for the movie Nymphomaniac—at the production office's request, of course. "I framed the e-mail," he laughed.
The actor—currently dating his Nymphomaniac costar Mia Goth—is clearly not afraid to make edgy career choices. Even so, LaBeouf said "there are rules" about which kind of roles he accepts.
"I have ethics. I'm not completely out of my mind," he said of going nude on the big screen. "But I don't think there's anything wrong with sex. Sex is beautiful if it's done right. And I wouldn't just do it for no reason…Sex is different than love, and there is a separation, and that middle gap is what the movie's about."