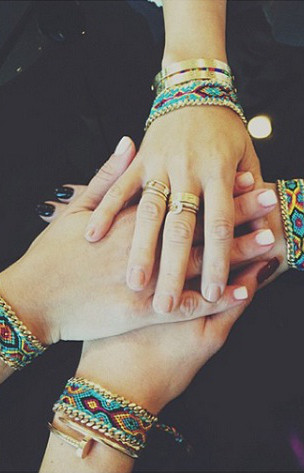 Instagram
We know the Kardashian sisters are close, but now it's official!
Kylie Jenner posted this pic to Instagram, showing off her newest matching accessory with sisters Kim Kardashian, Khloé Kardashian Odom and Kourtney Kardashian: Friendship bracelets!
Kylie tagged each of her big sisters in the pic, as all of them had a literal hand in the posting. "Friendship bracelets @khloekardashian @kourtneykardash @kimkardashian," Kylie wrote.
The sisters have all been pretty adorable on Instagram together lately, posting selfies together and generally being supportive siblings. In fact, Khloé posted a selfie with Kylie today, with the caption, "The best way to start my day with @kyliejenner."