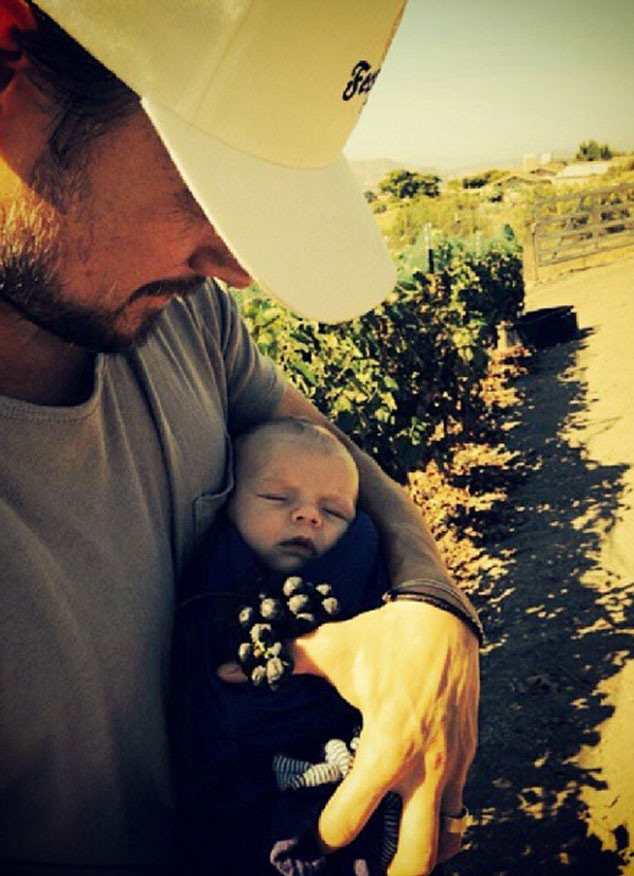 Instagram
Here's hoping Josh Duhamel posts of video of himself changing 7-week-old son Axl's diaper.
"Timing when he's done actually pooping" has been the hardest part of being a new dad, Duhamel told me Thursday at the opening of the Wallis Annenberg Center for the Performing Arts in Beverly Hills.
"I'll be in the middle of changing the diaper and he'll literally spray me," he said. "It's figuring out when he's actually done, when we can go in for the diaper change. You never know. It's a crap shoot, no pun intended."
Lazic/Maidana/INFphoto.com
Fergie gave birth to Axl on Aug. 29 at Cedars-Sinai Hospital after checking earlier in the day for a prescheduled C-section. He weighed in at 7 pounds, 10 ounces
Axl's most recent first? "He just smiled yesterday for the first time, but everything leading up to that was great…I just recommend it to anybody out there who hasn't done it," Duhamel said.
Halloween costume plans for the little one? "We don't know yet," Duhamel said. "Like a monkey probably. Something like that, something simple."
Duhamel and Fergie are also having some musical fun. "We make up some of the most ridiculous songs you've ever seen," Duhamel said. "He'll either appreciate it or you know, be completely embarrassed by it someday."
Watch:
Josh Duhamel Dishes on Diaper Duty