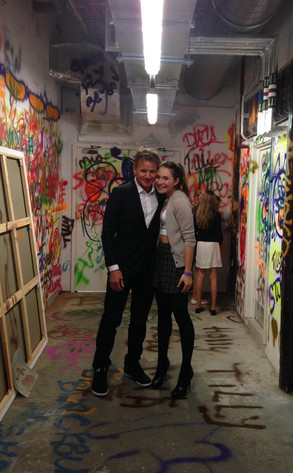 Twitter
Update: A rep for Gordon Ramsey tells E! News that comments made about spying on his daughter were "completely misinterpreted and taken out of context." According to the rep, "It was nothing more than a joke he made up on the show to poke fun and embarrass Megan who was sitting in the audience with her boyfriend. He's never actually asked his son to do this!"
Phew!
____________________________
Talk about helicopter parenting! Celebrity chef Gordon Ramsay is so overprotective of his eldest daughter that he's jokingly considered bugging her room with a hidden camera, the Hell's Kitchen star said on the U.K.'s Jonathan Ross Show.
Gordon, 46, and his wife Tana, 38, have four children from their 16-year marriage: Megan, 15, twins Jack and Holly, 13, and Matilda, 11. The TV star's daughter attended the talk show taping with her boyfriend, and he used the opportunity to tease her. "They've been spending a lot of time in her room recently," Gordon said. "But revising. Revising. They seem to be spending a lot of time revising and yet the results aren't..."
The restaurateur then joked about spying on his firstborn. "I've been a bit naughty over the last couple of weeks because I got Jack a little Go-Pro, one of those little secret cameras," he shared. "So I said to him, 'Look mate, here's 20 quid, go and target your big sister's room and put that camera right at the top left-hand side of the wardrobe.' So, Megan, I'd like to talk to you about your revising."