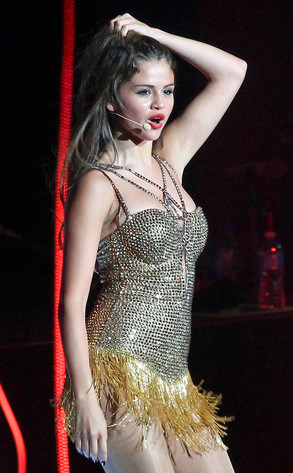 R Chiang/Splash News
Selena Gomez wears her heart on her sleeve, onstage and off. The 21-year-old pop princess got emotional—and even cried!—while performing a song about her ex-boyfriend, Justin Bieber.
The singer took her Stars Dance world tour to the Barclays Center in Brooklyn on Wednesday, Oct. 16. While there, Gomez performed a touching ballad titled "Love Will Remember." Before the song began, however, she talked to her fans about love and loss. "Everyone in this room, I have those bad days," she said. "And I understand when you guys just don't feel like it's enough and you just want to get back to when you were a kid again, and it was so simple, and just one thing that you want."
Gomez got teary-eyed mid-song, as she's been known to do during past concerts.