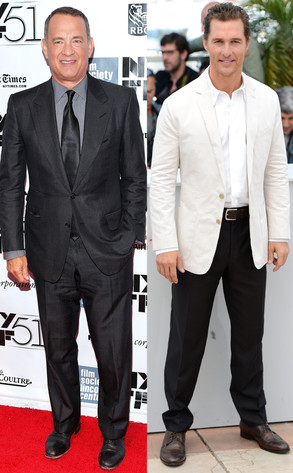 Jemal Countess/Getty Images/Venturelli/WireImage
Matthew McConaughey is no stranger to changing his appearance for his movie roles, notably gaining some (more) muscle as a strip club owner in Magic Mike.
But when the 43-year-old had to drop a massive amount of weight to portray an HIV-positive man in Dallas Buyers Club, he called a veteran in the weight loss department: Tom Hanks.
"I actually called Tom and had a great conversation with him about what he learned about losing weight for Philadelphia and Cast Away," the actor told People at the Dallas Buyers Club junket in Beverly Hills on Saturday, Oct. 12. "And I consulted a nutritionist about the best way to do this."