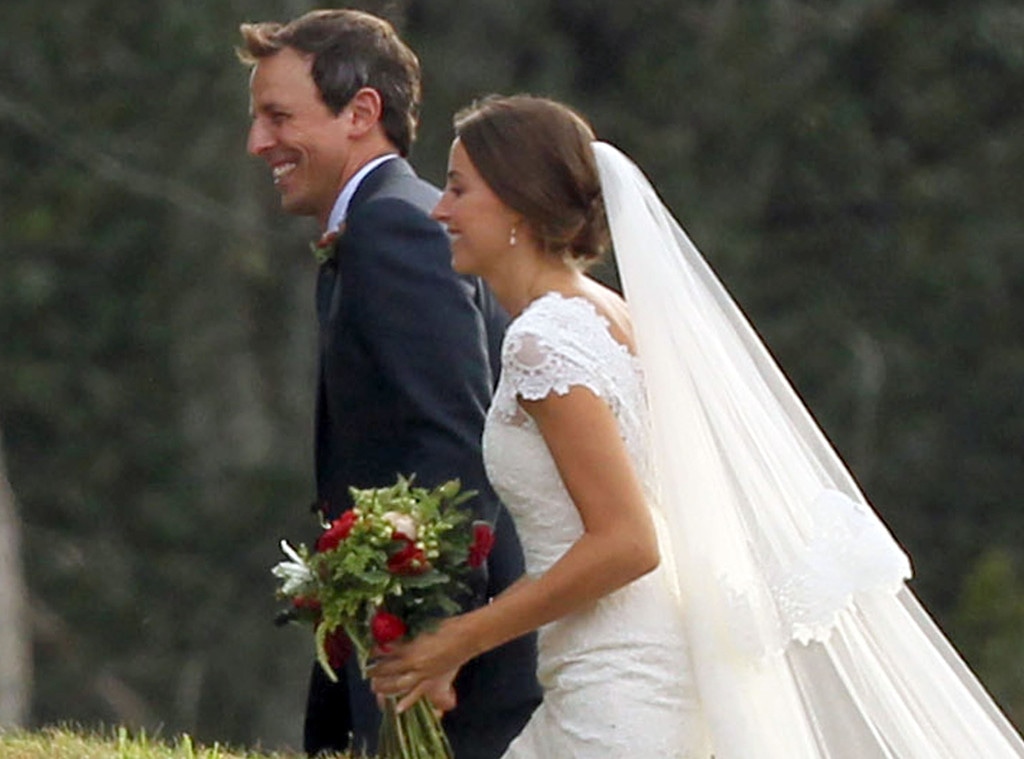 Patriot Pics/FAMEFLYNET
You would never know it from the beautiful pictures, but Seth Meyers' wife, Alexi Ashe, was advised not to marry the Saturday Night Live star in September.
And not only advised, doctors told her she was not going to get married that day.
The reason? Food poisioning from a bad oyster.
"The rehearsal dinner the night before, my wife, to begin with the MVP of the wedding, as most wives are," the funnyman said on The Late Show With David Letterman on Tuesday, Oct. 8. "Planned the whole thing. Every detail. Day before the wedding, eats an oyster. Food poisoning.  Knocks her out."
"Top-notch catering," David Letterman quipped.
"I said, like, 'Let's try to save it, I'll get the oysters, I know a guy,'" Meyers joked.
But it was no joke. The next morning Ashe took a turn for the worse and she went to the hospital.
"I go to the emergency room. I meet her there, and she's just like knocked out, like fully knocked out on a gurney like a person looks before the end," Meyers revealed.
Yikes.
"A nurse walks in and just takes one look at her and says, 'You're not getting married today,'" Meyers said. "And it was like my wife turned into the star of an action movie who's been like knocked down and you think he's done and someone says, that villain says one last thing, and she like propped herself up on her elbows and she's like 'I'm getting married today!'"
And that she did.
The duo exchanged vows during a star-studded ceremony on Martha's Vineyard in Massachusetts on Sunday, Sept. 1.
Celebrity attendees included Olivia Wilde, Jack McBrayer, Ali Larter, Olivia Munn, Allison Williams, Rashida Jones and Nick Kroll, as well as SNL's Kristen Wiig, Andy Samberg, Fred Armisen, Amy Poehler, Jimmy Fallon, Kenan Thompson, Will Forte, Lorne Michaels and Taran Killam.
So how is married life treating Meyers?
"I'm officially not winning any more arguments," he said of his human rights attorney wife. "Ever again."