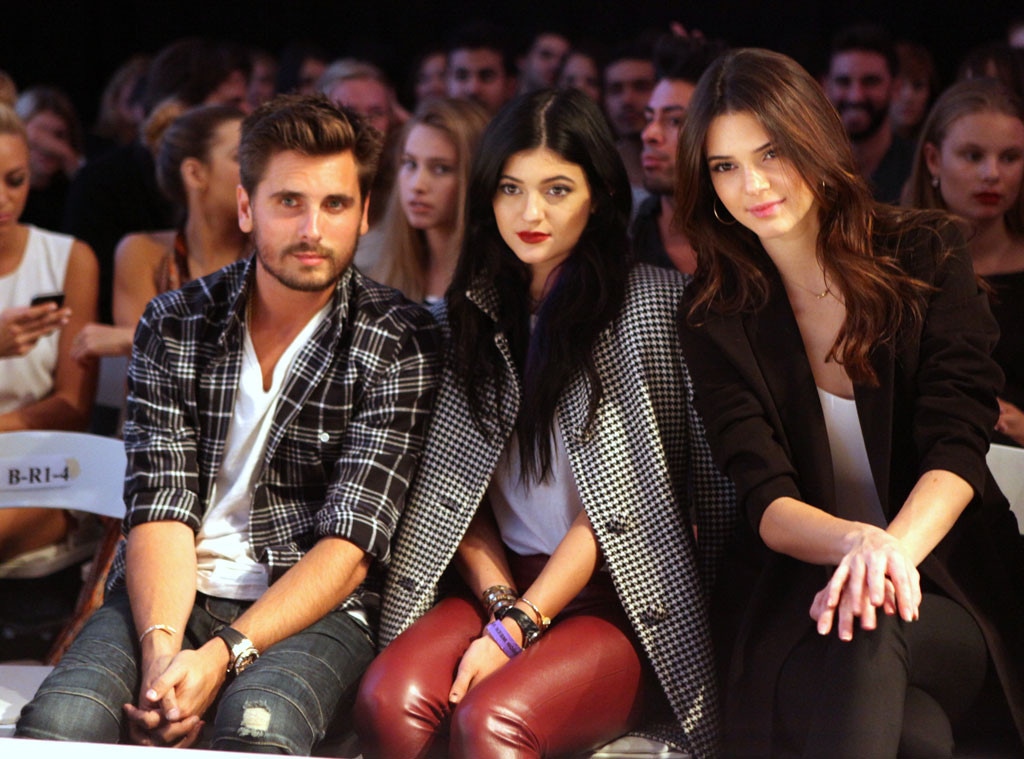 Val Ritter VR Vision Photography
Did Scott Disick, Kendall Jenner and Kylie Jenner get flipped off by a runway model?!
Last night, the three Keeping Up With the Kardashians stars hit the Day by Day fashion show at L.A. Live as part of Style Fashion Week. During the show, model Caroline D'Amore was seen sticking up her middle finger in the trio's direction while they happily watched on from the front row.
So was D'Amore's bird-flipping a big diss? 
No, in fact, an onlooker at the shows tells E! News that the beauty, who has a long friendship with Kim Kardashian and family, was just having fun with her pals.
It's also clear that the Jenner girls and Disick didn't take offense to the one-finger salute as they were snapped smiling from ear to ear while watching D'Amore strut her stuff.
D'Amore later said in a statement that she "adores" the Jenner sisters and "Lord Disick" and "absolutely" didn't flip them off.
"[Style Fashion Week] is not so serious, so calm down," she said. "It's always fun and relaxed like the L.A. lifestyle. It was an amazing night. I've been working with designers Cedric and Yves from 'Day By Day' for years, love them to death, so when I was asked to walk in the show and DJ the afterparty, I said 'of course' now that the tour I was on with Bonnie McKee and the Jonas Brothers had just been canceled."
After the show, Disick went up to Day by Day designer Cedric Benaroch to pal around on the runway. While some are saying Kourtney Kardashian's other half tried to obnoxiously pull Benaroch from the stage, a source tells us, "Cedric wasn't mad at all," adding that the two actually are friends and it was all just joking around. "It was all in fun," the source says.
Also in attendance at last night's event were supermodel Alessandra Ambrosio and fiancé Jamie Mazur, as well as Justin Bieber's pal Lil Twist, who actually arrived with the Jenners and sat next to them during the fashion show. All the guests went home with fancy gift bags stuffed with Day By Day clothing and Nouvi Nomi bracelets.
After the bash, Disick and the Jenner gals met up with sister Khloé Kardashian Odom at an afterparty.