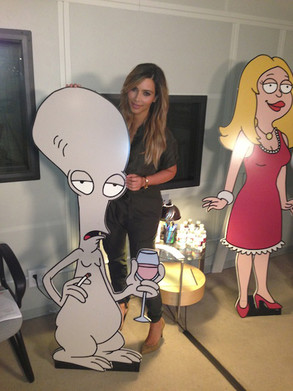 kimkardashian.celebuzz.com
Kim Kardashian is showing off her animated side.
The E! star put up a playful picture on her blog on Monday that shows the new mom posing with a couple of American Dad! character cutouts.
"Guess what guys!!!!" she wrote. "I'm going to be on American Dad! You have to tune in to see what my character is!"
And while we'll certainly be tuning in, it's actually already been revealed who Kardashian's character will be.
Fox confirmed to E! News last month that Kanye West's significant other will play a furry creature from another planet and will be a love interest for alien Roger (voiced by Seth MacFarlane) after her spaceship crash lands in Langley Falls, Va.