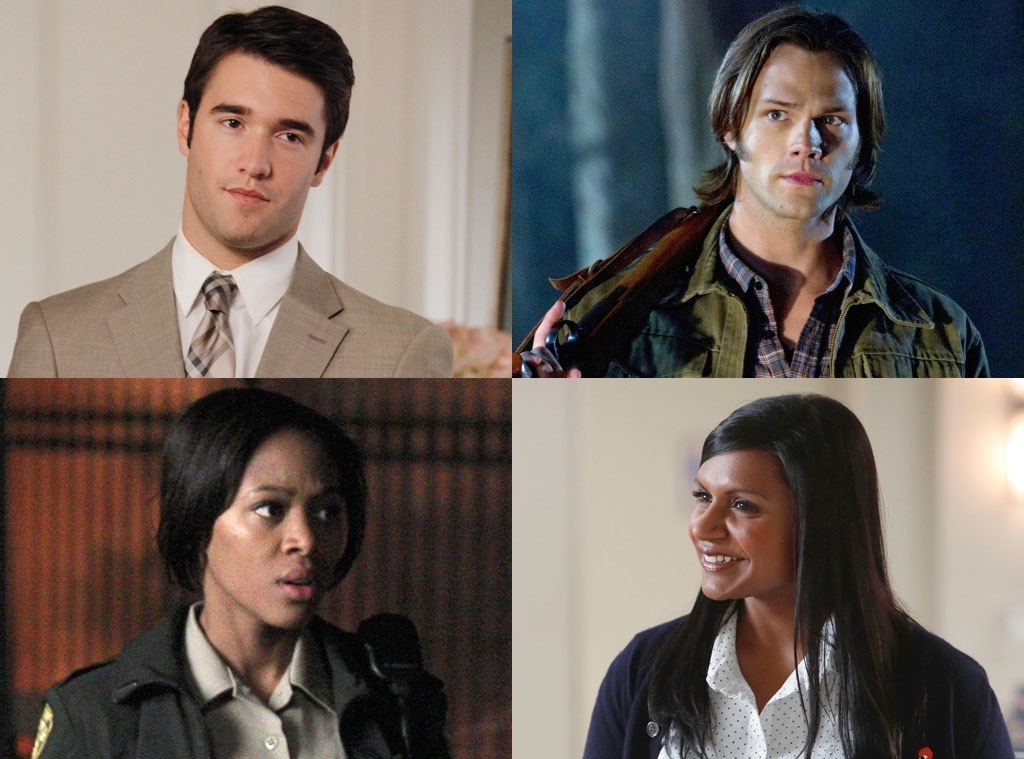 FOX, CW, ABC
 There's a fine line between love and hate.
Today's Spoiler Chat is all about that fine line, as we've got scoop on the romances, both good and not-so-good, including two weddings: One on Revenge and the other on The Mindy Project. We also found out if either of the Winchester brothers will be getting a love interest this season on Supernatural and learned of an ex coming to Sleepy Hollow.
Plus, we've got scoop on what's next after last night's shocking cliffhanger on Arrow, Klaus' softer side coming out on The Originals and more...
Jac: Girls, Girls, Girls!
OK, we're hoping you are asking about the HBO show, not, you know, girls. But we have good news to share: The third season will premiere on Sunday, Jan. 12, so break out your shorteralls, mesh shirts and snuggies, but leave the Q-tips behind. (Still: Ew.)
Shawn D.: Revenge is so good this season! What can I look forward to?
You have until episode ten to find a wedding gift because that's when an extremely posh wedding ceremony will be going down. One so big that reporters are even waiting outside of the church. The episode's  title? "Exodus." Chills!
Chloe: Will Sam or Dean get a real love interest this season on Supernatural? And if so, where can I audition?!
Though Castiel will have a love interest this season, don't expect to see either of the Winchester brothers find a special lady, with Jeremy Carver telling us, "I think you're going see a little bit of everything. I mean I can't quite comment on everything down the line here, but as far as the boys are concerned, there's not a lot of time for [romance], at least here in the early going."
Meg: Love, love love The Mindy Project this season! Any scoop on Mindy's love life?
Get excited, one of Mindy's popular BFs from season one is returning. But keep your excitement to a reasonable level as he's returning…to get married…to someone who is not Mindy.
Amy: I really hate baseball season right now because it means three weeks without my new obsession Sleepy Hollow! Any scoop to make me feel better?
We'll finally start learning more about Irving!  Viewers will meet his ex-wife Cynthia and teen daughter Mae. While they have a good relationship, Cynthia worries about Irving's relationship with his daughter since he started working in Sleepy Hollow. Expect to see them stick around for a few episodes.
What's coming up for Hayley on The Originals? I'm surprised by how much I am loving her on this show!
The Originals are surprised by their affection for her, too! "We're going to see a little more of his protective side, and I think indeed from the entire Mikaelson family. We're going to see them kind of embrace the idea that this baby and therefore this person, this mother, Hayley, belong to us," Joseph Morgan previews. "She's with us now." But it won't always be easy for Klaus to show his softer side to Hayley. "I hope he'll be a little more understanding and considerate to the mother of his child, although I feel like he fluctuates," Morgan explains. "I feel like he wasn't keen to show her that she perhaps means something."
Collins: Holy cliffhanger, Arrow! How the hell will Oliver get out of this one?! I need answers!
Oh, you mean Laurel having Arrow surrounded by a SWAT team? "People are asking me to lower my bow, and that's how we pick up episode three," Stephen Amell previews. "And that's what I do, I lower my bow, and I'm not the Arrow. And it's not good. I'm in big trouble."
Hilary: Anything good coming up on Suburgatory?
Just an episode titled after Mean Girls: "No, You Can't Sit With Us." In the awesomely-titled ep, fans will be treated to a Chatwin beauty pageant. Of course, there are some overzealous pageant moms featured to provide the LOLs, too, equipped with "go-go juice."