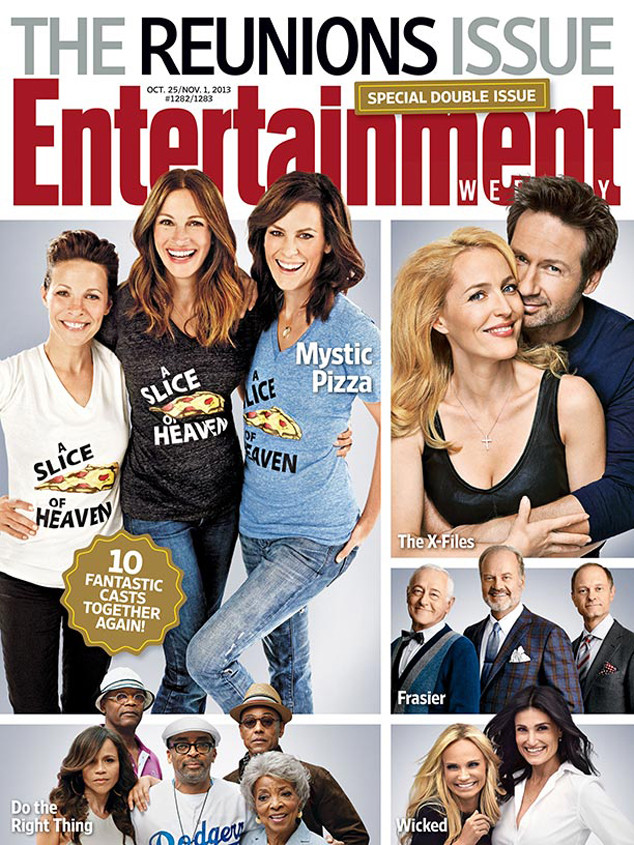 EW Magazine
Get ready to feel nostalgic!
For Entertainment Weekly's fourth annual Reunions Issue, the casts of Mystic Pizza, Frasier and The X-Files all got back together for the mag's collector's edition covers. But that's not all: The casts of Boy Meets World, Do the Right Thing, Wicked, The Sisterhood of the Traveling Pants, School of Rock and more also reassembled in 2013!
Julia Roberts, who was essentially an unknown actress before Mystic Pizza premiered in 1988, reunited with her former costars Annabeth Gish and Lili Taylor. Costar Vincent D'Onofrio had an early feeling America's Sweetheart was meant for her role as a loveable, small-town pizza girl. "I went to meet the director and there were tons of kids there Julia's age, and I remember meeting Julia in the lobby and going, 'Wow, who's that chick?'" he recalled. "We were just…happy. Happy to have jobs, happy to be working hard, and enjoying each other's company."