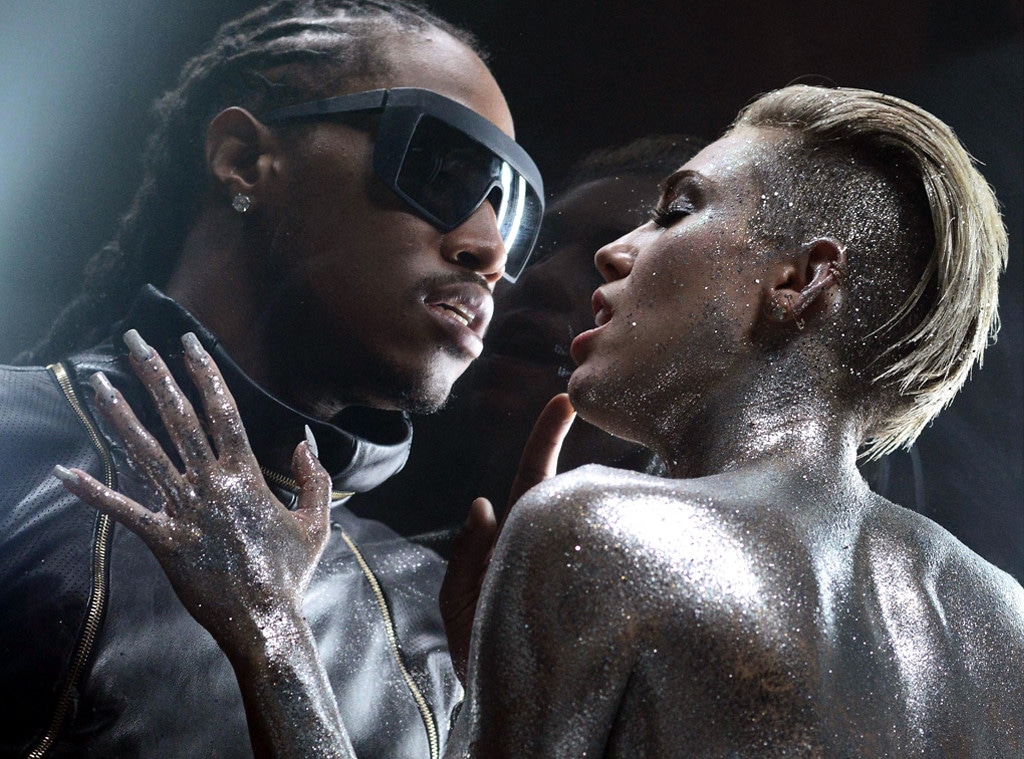 Dan Steinberg/Invision for Epic Records/AP Images
Miley Cyrus took on a whole new identity in her latest project.
The foam-finger wearing, booty-shaking pop singer became what looks like an alien during the music video for rapper Future's single "Real and True," one of his tracks which features Miley.
The series of exclusive pictures from the video, releasing this Friday, show Cyrus covered in metallic body paint, while Future pretty much looks like himself—besides wearing an astronaut's uniform at one point (which makes sense since his nickname is Astronaut Kid).
Their work together on the track off his sophomore LP Honest (releasing in December) was just one of many collaborations.
Dan Steinberg/Invision for Epic Records/AP Images
"I worked with Miley Cyrus when we were working on her project, for her album," Future told Sway Colloway during an appearance on RapFix Live. "I was doing some records in Vegas and Mr. Hudson sent a hook back he did on a Mike Will track. He played it for Miley and she wanted to be a part of it, so I'm putting the record on my album also."
Speaking of working on Bangerz, Future went into detail during an interview with MTV on his studio time with Miley.
"We got a lot of great records, and it all came from conversation and having a nice vibe," the Atlanta rapper said. "Whenever she allowed me in her personal life through conversation, I tried to take that vibe and go to the booth. I told her, 'You've gotta embrace your fears. If something's bothering you, you've gotta run toward it. If you're crying about it, you need to cry till you can't cry anymore. If you try to hold it back, then it's gonna eat you up. But if you embrace [it], the music moves."
Frank Micelotta/Invision for Epic Records/AP Images
He continued, "The songs I did with her [are] very touching. Certain days it's about money, partying and vibing and some days [it's about needing] somebody to stand by you and hold you down. Certain days you wanna know if the love that you're with is really true, and one song we got is basically around all those subject matters."
Future is featured on Miley's track "My Darlin'."