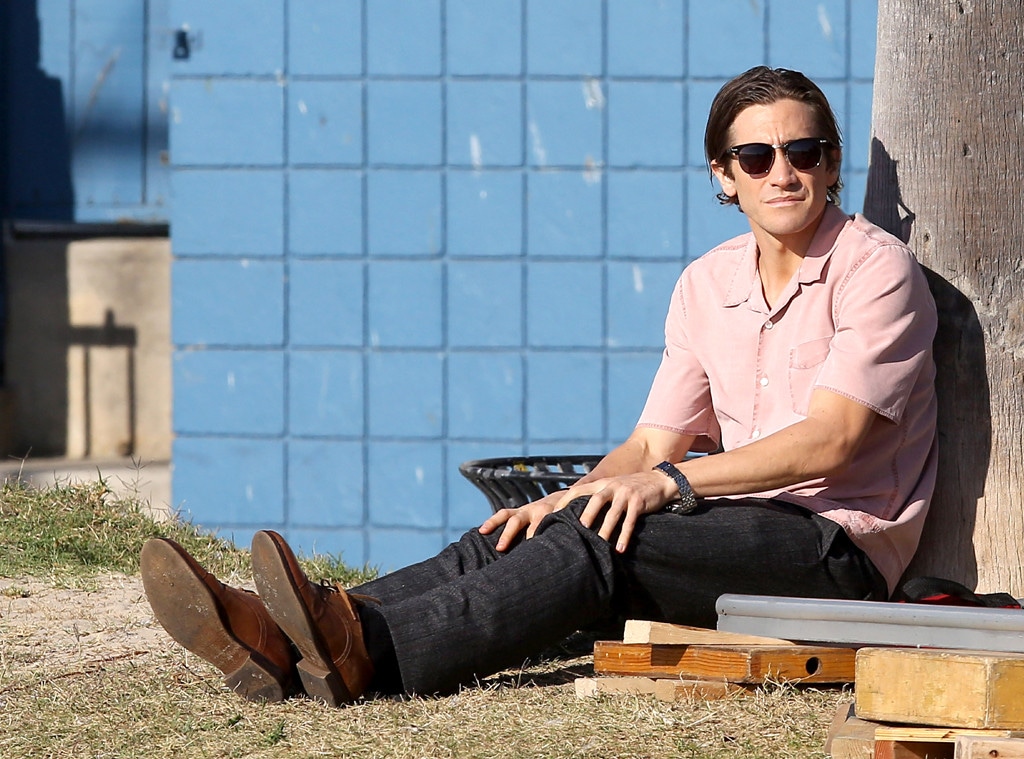 GEVA/AKM-GSI
Is Jake Gyllenhaal following in Matthew McConaughey and Christian Bale's footsteps?
The sexy 32-year-old actor, who is famous for his bulging biceps and hot bod, was spotted on the set of his upcoming flick Nightcrawler, where he was seen sporting a noticeably slimmer frame while filming on Sunday. 
Gyllenhaal appears to have lost a considerable amount weight for his role in the Dan Gilroy-directed film, which centers on a young man (Gyllenhaal) who stumbles upon the underground world of L.A. freelance crime journalism.
Dressed in a button-down pink shirt, black slacks and brown oxford shoes, the slimmed-down star gave the camera a serious stare, which appeared even more poignant due to the increased prominence of his cheekbones, while perched against a tree in Venice, Calif.
While Jake's McConaughey-esque figure may be a bit alarming, this isn't the first time the End of Watch star has undergone a physical transformation for a role—he previously bulked up in 2010 for Prince of Persia: The Sand of Time.
In addition to filming Nightcrawler, Gyllenhaal's latest movie, Prisoners, in which he stars alongside Hugh Jackman, is currently in theaters and has been called "exciting" and "spellbinding" by critics.
He will next be seen in Enemy—which premiered at the Toronto Film Festival in September and is based on the Nobel Prize-winning author Jose Saramago's 2002 novel The Double—before Nightcrawler, which also stars Rene Russo and Bill Paxton, hits theaters in 2014.