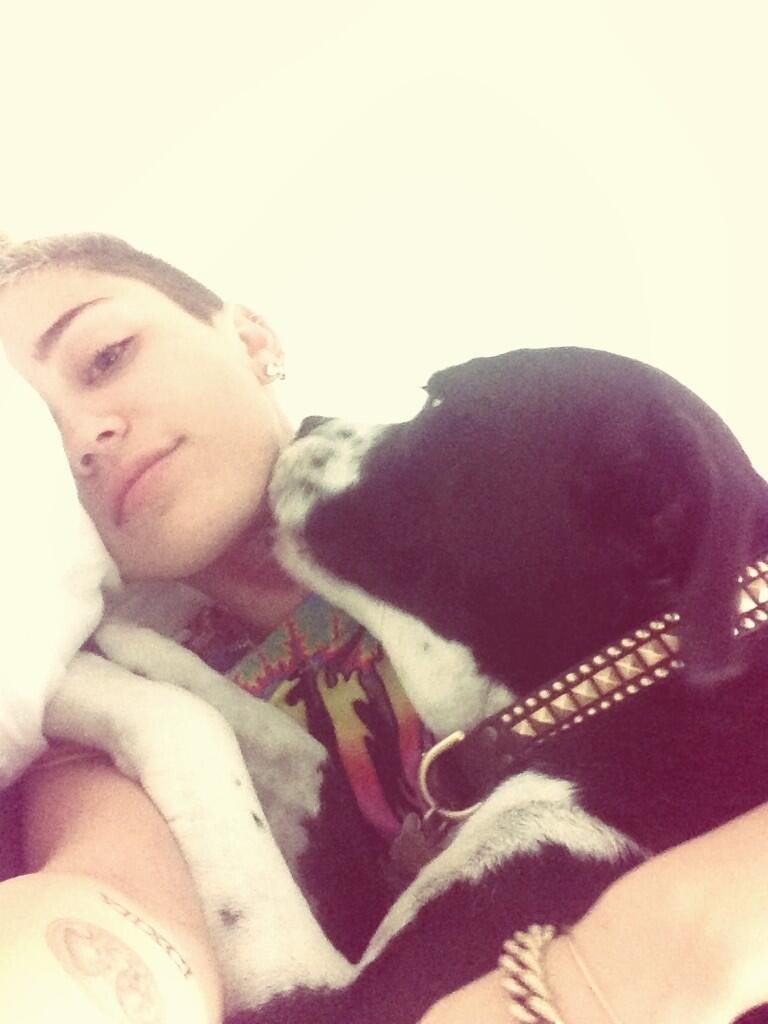 Twitter
Looks like Miley Cyrus is easing in to her Tuesday morning.
The 20-year-old pop star, who has been a bit under the weather as of late, shared an adorable selfie where she's snuggling with her dog in bed this a.m. 
"I love the way she kiss my neck❤," the "We Can't Stop" singer captioned the precious pic of herself and her furry friend, whom she's giving a giant squeeze in the shot.
After Miley's lazy morning in bed, the blond beauty took to Twitter again to share a shot of her breakfast (possibly a frittata?), captioning the photo, "wake and bake," natch.
This is hardly the first time the "Wrecking Ball" beauty has publicly referred to her love for cannabis. She recently told Rolling Stone that she thinks "weed is the best drug on Earth," and she also shared a shot of herself sporting a "Reefer Fever" tank top, which features Justin Bieber smoking a cartoon joint, last week.
Liam Hemsworth's former fiancée has been busy promoting her album Bangerz, and despite being on the receiving end of rampant criticism for her controversial new image, the short-haired beauty seems more confident than ever with her evolution as an artist.
"With magazines, with movies, it's always weird when things are targeted for young people yet they're driven by people that are like 40 years too old," she said in a recent interview with Hunger TV. "It can't be like this 70-year-old Jewish man that doesn't leave his desk all day, telling me what the clubs want to hear. I know what they want to hear. I know when you're in a club, what makes everyone go crazy and when the time is where everyone's like, 'All right, I'm going go get a drink.' I know when people walk off the dance floor and I know what's driving it, so I've got to be the one doing it because they're just not in on what 20-year-olds are doing."