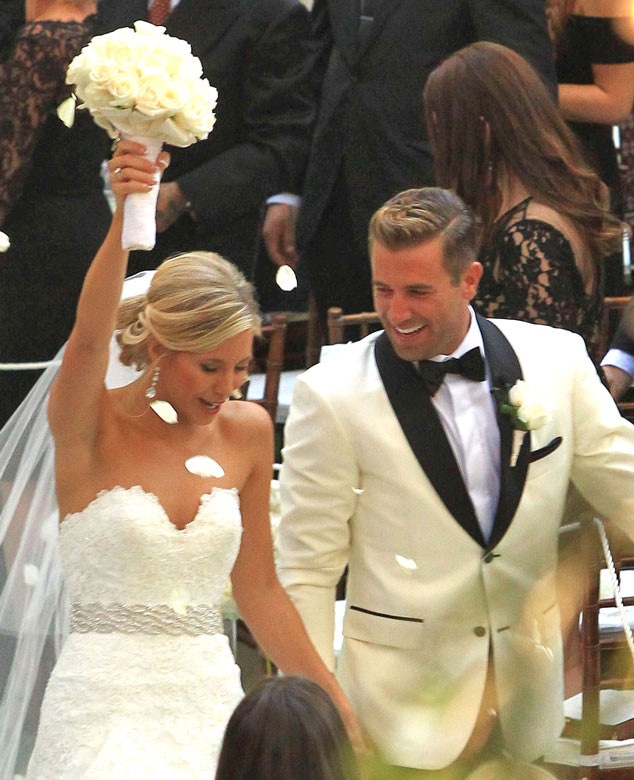 Dmac/CPR/FAMEFLYNET PICTURES
Jason Wahler is a married man!
The former Laguna Beach star wed his longtime love Ashley Slack in front of family and friends in Malibu, Calif. on Saturday, Oct. 12, and now we have an inside look at the lovebirds "I Do's."
The wedding was held at Calamigos Ranch (the same location where Aaron Paul and Lauren Parsekian tied the knot last spring), and the ceremony, which lasted about 20 minutes, took place at the top of a small staircase on the garden patio. 
Dmac/CPR/FAMEFLYNET PICTURES
Jason was beaming from ear to ear in a white tuxedo jacket as he walked down the aisle, which was covered with white rose petals, holding hands with his beautiful bride. 
Ashley also looked stunning in a strapless wedding down with a sweetheart neckline, flashing a giant smile while wearing her long blond locks in a delicate bun and sporting a matching veil.
The couple said personal vows under an altar framed by a white curtain.
And when they were finally pronounced husband and wife, Slack proudly thrusting her bouquet of white roses in to the air as the lovebirds, hand in hand, happily took their first steps together as Mr. and Mrs. Wahler.
John M. Heller/Getty Images
As the newlyweds walked out, guests, including Dr. Drew Pinsky, tossed white rose petals while Wahler couldn't take his eyes off his gorgeous new wife. 
After saying "I Do's," the couple posed for photographs on a nearby bridge, where they were seen kissing and smiling at each other the entire time.
The pair, who met through mutual friends, confirmed their engagement in November 2012.
Coincidentally, Wahler's ex Lauren Conrad and her boyfriend William Tell got engaged over the weekend as well.