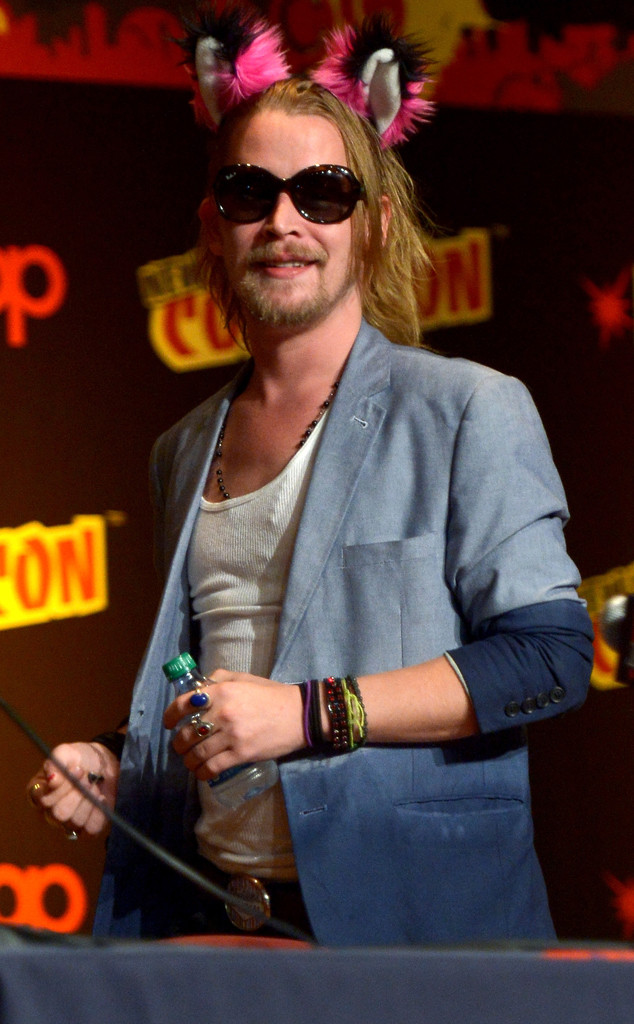 Mike Coppola/WireImage
Macaulay Culkin made a rare public appearance on Saturday, Oct. 11, when he showed up for Day 2 of New York Comic Con. The actor—perhaps best known for his role as Kevin McAllister in the first two Home Alone movies—joined Seth Green, Breckin Meyer and Matthew Senreich during the Robot Chicken panel inside the Javits Center.
Culkin has voiced various characters in the Adult Swim cartoon since 2005, including Bastian Bux and Billy.
Though he's looked gaunt and disheveled in recent years, Culkin seemed healthy and happy at the annual event. (In August 2012, his rep denied that the former child star had developed a drug problem, telling E! News that such reports were  "not only categorically without merit" but also "impossibly and ridiculously fictitious.")
Sporting long hair and a goatee, the 33-year-old actor wore dark blue jeans with a white tank top and a dip-dyed blazer. His accessories were a tad more eccentric, as he donned furry bunny ears and stacks of multicolored bracelets. To be fair, he was at Comic Con, where anything goes. Green also dubbed the foursome "the silly hat club" via WhoSay.
At one point, Culkin even licked Green's face, and the audience roared with laughter at the unexpected gag. When a fan asked Culkin where he's been hiding since appearing in the 2004 movie Saved!, Culkin replied, "Hiding under a rock somewhere."
Green then jumped in, adding, "The best thing about Mac is that he had a better career by the time he was 14 than most of us have in our whole lives. If he spends four years, six years, not doing anything, he'll still be more relevant than anyone here."
Culkin hasn't appeared in a movie since 2011's The Wrong Ferarri, which was filmed entirely on an iPhone amd initially released online as a free download. Since then, he's taken up painting and shown his works at several art exhibits in New York City.